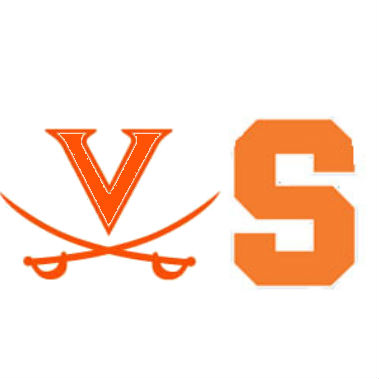 Second-ranked UVA didn't score until eight and a half minutes in, and had two points with 6:06 was left in the first half.
No problem. The Cavaliers scored on 14 straight possessions over the next 10:32 to take control, and rolled to a 59-47 win over Syracuse on Monday night, clinching in the process the program's second consecutive ACC regular-season championship.
Virginia (28-1, 16-1 ACC) made nine of its last 11 shots in the final 6:06 in the first half to fuel a 21-7 spurt that sent the 'Hoos into halftime up 23-20.
The Cavs scored on six of their first seven possessions in the second half and led 40-27 on a Mike Tobey dunk with 15:34 to go.
The margin never got back into single digits after that.
Anthony Gill led the way with 17 points on 8-of-11 shooting from the field. Gill also pulled down nine rebounds.
London Perrantes had a double-double – 10 points and 10 assists to go along with five rebounds, three steals and just one turnover.
Malcolm Brogdon also had 10 points, and Tobey had 10 points and eight rebounds off the bench.
Virginia shot 46.2 percent from the field for the game (24-of-52) and 35.3 percent (6-of-17) from three-point range.
The Cavaliers outrebounded Syracuse 42-20, including a 16-14 advantage on misses on the UVA offensive end.
Syracuse (18-12, 9-8 ACC) shot 38.3 percent from the field (18-of-47) and was 4-of-19 (21.1 percent) from three-point range.
Trevor Cooney led the Orange with 14 points.
Team Notes
Virginia has its best start in school history at 28-1.
The Cavaliers clinched their second consecutive ACC regular season title outright and No. 1 seed in the ACC Tournament.
Virginia became the first ACC school to win 16 league games in back-to-back seasons.
Virginia became the fourth ACC school in history to claim back-to-back outright ACC regular season titles joining Duke, North Carolina and NC State.
The Cavaliers have seven ACC regular season titles (three outright).
Virginia has a school-record 11 true road wins.
The Cavaliers have a nine-game winning streak.
Virginia posted it first win vs. the Orange in Syracuse and a two-game winning streak in the series.
Virginia is 15-2 in ACC road games over the past two seasons, marking the most road wins in the conference over that period.
UVa's current 11-game road winning streak ranks first nationally.
Virginia has 81 wins during a three-year span, its most since winning 88 games from 1981-83.
Virginia's scoring drought of

8:14

to start the game was its second longest of the season (

9:14

at Virginia Tech on

Jan. 25

).
Player Notes
Malcolm Brogdon (10 points) scored in double figures for the 23rd time this season (57th career).
Mike Tobey (10 points) scored in double figures for the ninth time this season (29th career).
London Perrantes (10 points) scored in double figures for the sixth time this season (11th career).
Anthony Gill (17 points) scored in double figures for the sixth consecutive game and the 19th time this season (35th career).
Perrantes (10 points, 10 assists) had UVa's first points and assists double-double since Sean Singletary vs. Old Dominion (March 24, 2008).
Player Career Highs
Perrantes had a career-high 10 assists.