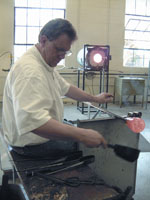 Flaming ray guns and fire-breathing dragons are part of the fun planned to celebrate the tenth anniversary of the Virginia Hot Glass Festival, set for Saturday, April 28, and Sunday, April 29, at Sunspots Studios in Downtown Staunton.
Hot glass artists from around the region gather annually at the Festival, bringing booths full of beautiful art glass items and demonstrating their craft throughout the weekend.  On-going demonstrations of glass blowing and flame-working techniques are what make this Festival unique to the region, providing a rare opportunity to watch glass artists at work.  And best of all, it is free.
The Festival is family-friendly, and this year children will be invited to draw picture of something they would like to see the glass artists attempt to make.  Some of the drawings will be selected to challenge the artists' skills.  In addition, several visitors will be invited at random to step into the glass studio and assist the glass blower in making a hand-blown ornament.  The fire-breathing dragon will be created on Saturday morning, and the flaming ray gun on Sunday.
"We wanted to add some extra excitement to this year's Festival to celebrate our ten years," says Caroline Sheridan, co-owner of Sunspots, and one of the organizers of the Festival.  "It is also our way of saying 'thanks' to everyone for their support."
The artists' booths will take over the second floor of Sunspots Studios.  Everything from goblets to vases, and glass jewelry to marbles will be available, encompassing hot glass creations from the functional to pure art.  "The amazing variety that hot glass allows as a medium is clear when you take a walk through the artists' booths during the Festival," says Festival organizer and Sunspots owner, Doug Sheridan.  "The colors and shapes, and the almost magical properties of glass, give it a special place in the art world.  And the fact that a piece must be created from start to finish in one setting—usually in a space of less than 30 minutes, is intriguing."  Sheridan is also one of Sunspots' glass artists, where glass blowing demonstrations are offered daily throughout the year.
Festival hours are Saturday, April 28, 9am to 6pm, and Sunday, April 29, 10am to 5pm. The Festival is held indoors at Sunspots, 202 S. Lewis St. in downtown Staunton.  Parking is available on-site, and the Festival is handicapped accessible.
In addition to glass art, the Virginia Stone Carvers will be exhibiting and demonstrating stone sculpting across the street from Festival.
Sunspots Studios creates and sells artworks of copper and art glass in its Staunton studios, and offers visitors live glass blowing demonstrations daily year-round.  Sunspots  is 5 minutes from I-81 (Exit 220) and I-64, near Staunton's historic train depot.  It is located in the historic Klotz Building, 202 S. Lewis St., at the corner of Middlebrook Ave., and is open 7 days a week.  For more information, call Sunspots Studios at (540) 885-0678, or visit www.sunspots.com.