New Dominion Bookshop to host event with author and UVA professor Kiki Petrosino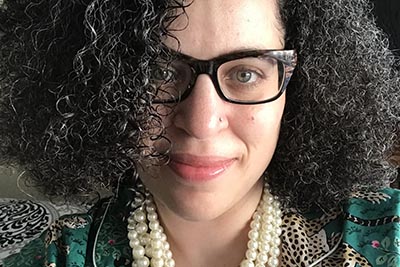 New Dominion Bookshop will host a book reading and signing with author and UVA professor Kiki Petrosino on Friday, Sept. 9, at 7 p.m.
Petrosino will be reading from her new memoir, Bright, which will be released from Sarabande in early August.
This in-person event will be free to attend and open to the public.
Bright: A Memoir, the first full-length essay collection Petrosino, is a work of lyric nonfiction, offering glimpses of a life lived between cultural worlds.
"Bright," a slang term used to describe light-skinned people of interracial American ancestry, becomes the starting point for an extended meditation on the author's upbringing in a mixed Black and Italian American family.
Alternating moments of memoir, archival research, close reading and reverie, this work contemplates the enduring, deeply personal legacies of enslavement and racial discrimination in America. Situated at the luminous crossroads where public and private histories collide, Bright asks important questions about love, heritage, identity, and creativity.
Petrosino is the author of White Blood: a Lyric of Virginia (2020) and three other poetry books, all from Sarabande.
She holds graduate degrees from the University of Chicago and the University of Iowa Writer's Workshop.
She directs the creative writing program at the University of Virginia, where she is a professor of poetry. Petrosino is the recipient of a Pushcart Prize, a fellowship in creative writing from the National Endowment for the Arts, the UNT Rilke Prize, and the Spalding Prize, among other honors.
New Dominion Bookshop is located at 404 E Main St. on the Downtown Mall in Charlottesville.
For more information, visit ndbookshop.com.