Local
Milepost Music concert to feature Beverley Street String Band on Aug. 21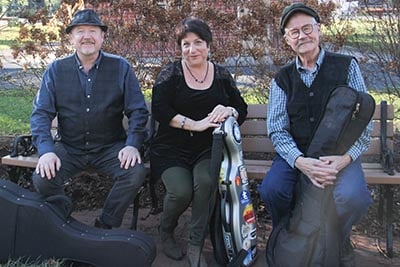 The Beverley Street String Band will perform from 1 to 3 p.m., Sunday, Aug. 21, at Humpback Rocks, milepost 6, on the Blue Ridge Parkway.
The outdoor concert is one of the free Milepost Music sessions offered at popular historical sites in the national park.
Based in Staunton, Beverley Street String Band is a juggernaut of musical energy. This powerhouse trio of master traditional musicians features Janie Rothfield's dynamic fiddling, Bill Wellington's driving clawhammer banjo and Allan Carr's inventive back-up guitar, as well as fantastic singing by each member.
The band's repertoire includes old-time fiddle tunes, and songs from Charlie Poole, Uncle Dave Macon, the Carter Family, plus original songs.
Featuring Carr, a Scotsman, the group plays Celtic music with a variety of songs and slow airs, waltzes, jigs, and reels from Scotland and Ireland.
Visitors are invited to bring a chair and sit a while to hear songs and stories about local musical traditions.
Uncle Henry's Favorites will play the next session at Humpback Rocks from 1 to 3 p.m., Sunday, Sept. 18.
The Milepost Music concerts showcase regional musicians playing traditional music at Humpback Rocks, Peaks of Otter, Roanoke Mountain Picnic Area, Mabry Mill, and Doughton Park on rotating Sunday afternoons.
The programs are a collaboration between the Blue Ridge Music Center, Blue Ridge Parkway Foundation, and National Park Service.