McAuliffe announces task force on millennial civic engagement
Governor Terry McAuliffe and Secretary of the Commonwealth Kelly Thomasson held the inaugural meeting of the Governor's Millennial Civic Engagement Task Force on Friday.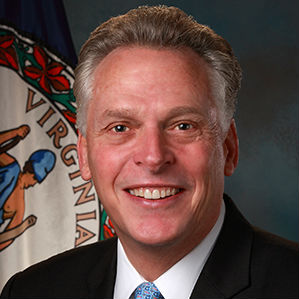 This task force will be charged with coordinating and implementing statewide civic engagement initiatives and fostering the development and growth of a culture of civic engagement within Virginia's colleges and universities.
Last year, First Lady Dorothy McAuliffe invited college and university presidents from across Virginia to gather at the Executive Mansion in celebration of Virginia's commitment to service in higher education and the "Compact on National Service."
"Virginia was proud to become the first state in the nation to commit to integrating service years on its campuses and I am honored to take that challenge to the next level by launching the Civic Engagement Task Force," said Governor McAuliffe. "Virginia millennials will set the course for the future of this Commonwealth. Through this task force, our mission is to find new ways to encourage them to take ownership of their communities and civic institutions."
The Task Force will be charged with conducting a comprehensive, statewide assessment of current organizations, programs, and services that promote civic engagement throughout Virginia's college and university campuses; hosting a series of statewide campus roundtables to identify and discuss barriers to civic engagement among college millennials; and providing additional recommendations to achieve the goals of the Task Force.
"A top priority of Governor McAuliffe's administration has been to build an inclusive Commonwealth that is open and welcoming to everyone," said Secretary of the Commonwealth Kelly Thomasson. "Millennials are a crucial sector of Virginia's population, but have historically been under-engaged in civic activity. Growing a new Virginia economy requires effort and participation by people of all ages, especially millennials. I am eager to work with this committed group of young Virginians to foster a greater culture of civic engagement among our students."
"As a millennial legislator in Virginia, I see every day how the policies we are discussing today will most greatly impact the younger citizens of tomorrow," said Delegate Lashrecse Aird. "Millennials are redefining norms everywhere and are igniting the change we need in our communities. The formation of the Governor's Millennial Civic Engagement Task Force provides millennials eager to be engaged with representation from across the state with a formal body to serve as their voice on the issues. I look forward to serving as a resource to this group in the development of unique approaches to better engage our students and younger-adult citizens throughout Virginia."
The Task Force will be led by the Office of the Secretary of the Commonwealth and include student representatives from Virginia's public, private, community, and historically black colleges and universities, along with other key stakeholders.
Governor's Task Force on Millennial Civic Engagement Members:
The Honorable Kelly Thomasson, Secretary of the Commonwealth
President Teresa Sullivan, University of Virginia
President Jonathan Alger, James Madison University
Traci DeShazor, Deputy Secretary of the Commonwealth*
Liz Howard, Deputy Commissioner, Virginia Department of Elections
Paula Robinson, Assistant Director of College Access and PK-12 Outreach, State Council on Higher Education
Jared Calfee, Executive Director, Virginia 21
Nakeina Douglas Glenn, PhD, Director, Grace E. Harris Leadership Institute, Virginia Commonwealth University
Doug Garcia, State Board Member, Virginia Community College System
Jay Brown, Board of Visitors Member, Radford University
Julia Billingsley, Student Representative, Virginia Tech
Alexandra Boone, Student Representative, Norfolk State University
Jewel Hurt, Student Representative, James Madison University
Kenneth Christopher Kidd, Student Representative, Christopher Newport University
Dana Legere, Student Representative, John Tyler Community College
Colleen Elizabeth McNickle, Student Representative, Radford University
Praise Nyambiya, Student Representative, Longwood University
Elizabeth Parker, Student Representative and Governor's Fellow, University of Virginia
Joseph Russell, Student Representative, George Mason University
Zaakir Tameez, Student Representative, University of Virginia*
Megan Turner, Student Representative, University of Mary Washington
Katherine Webb, Student Representative, College of William and Mary
Shai West, Student Representative, Virginia State University
Kelsey Wilkinson, Student Representative, Randolph Macon College
Imani Yeboah, Student Representative, Virginia Commonwealth University
TBA, Student Representative, Old Dominion University
TBA, Student Representative, Virginia Military Institute
*denotes Co-Chairman
Find the full executive directive here.