Looking for a ticket to UVA-JMU basketball season opener? It's going to cost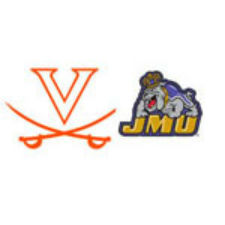 If you want a ticket to the UVA basketball season opener on Friday at JMU, tickets are available, but they are going to set you back a little bit.
A quick scan of StubHub late Wednesday has the cheapest available tickets, in the 200-level of the Convocation Center at JMU, going for $56.40 apiece. The best price for available tickets in the lower level bowl was at $96.18, with the next best price in the 100 level at $132.25.
Vivid Seats actually has four tickets in the 200 level at $43 apiece and a trio of tickets in the 100 level at $73 each.
(I'd never heard of Vivid Seats before tonight.)
SeatGeek has 200-level tickets at $56 each and 100-levels at $102 each.
Note that these numbers seemed to have moved a bit downward since the last time I looked on Tuesday.
It would seem like they'd maybe head up between now and later in the day on Friday before the floor would begin to fall on any availables still out there in the walkup to game time.
If you decide to hold off and wait for the home opener on Sunday against Norfolk State at JPJ, you can get what you want for a song: with 300-level seats going for $3-$5 and 100-level seats starting at $66.90 on StubHub.
– Column by Chris Graham
Comments