Live Coverage: #1 Virginia faces Miami in ACC hoops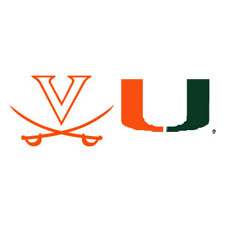 AFP editor Chris Graham leads our live coverage as #1 Virginia (23-2, 12-1 ACC) faces Miami (18-6, 7-5 ACC) Tuesday at 9 p.m.
Broadcast Information
The UVA-Miami contest will be televised on ESPN and streamed online on ACC Network Extra (ESPN3.com) and ESPN App, and broadcast on the Virginia Sports Radio Network, VirginiaSports.com and Virginia Athletics mobile app on iTunes or Android.
Keys to the Game: Virginia
Continuity: Coach Tony Bennett has been reluctant to go to his bench of late, using just one backup guard, Nigel Johnson, for just five minutes in the overtime loss to Virginia Tech. Bennett is going to need to develop a sense of trust with Johnson and Marco Anthony to keep Guy, Jerome and Hall fresh down the stretch of games and down the stretch of this 2017-2018 season.
Attack: It will be interesting to see if Larranaga uses the blueprint from Virginia Tech coach Buzz Williams that fueled the Hokies upset, which had Tech packing the lane to disrupt the rhythm of the UVA motion offense. UVA ended up settling for threes, hoisting 38 shots from behind the arc of its 61 overall shots. Jerome and Guy are adept at breaking down their man off the dribble. A counter to packing the lane is spreading the floor and using dribble-drives to break the defense down.
Get that chip back on the shoulder: A long winning streak will make you forget the sting of what it feels like to lose. It can be good to wake up hungry.