Local
Jackpot! Virginia Lottery distributes record $779 million to K-12 public schools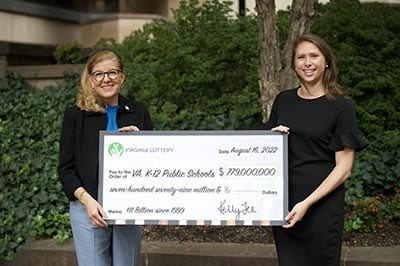 The big winner for the fiscal year ending on June 30, 2022, was K-12 public education in Virginia. The Virginia Lottery had record-setting profits in 2021-22 which resulted in a distribution of $779.6 million for public schools in the Commonwealth.
Every dollar of profit generated by Virginia Lottery sales is constitutionally required to go to K-12 public education.
Some of the local allocations for FY22 include:
Harrisonburg City: $8,478,434.32
Rockingham County: $7,810,954.33
Augusta County: $7,249,088.42
Albemarle County: $4,640,133.23
Waynesboro City: $3,444,881.32
Charlottesville City: $2,400,107.73
Staunton City: $2,327,467.74
A list of lottery funds distributed to each individual school district is available on Virginia Lottery's Giving Back page.
Virginia Lottery executive director Kelly Gee presented a ceremonial check to the secretary of education Aimee Rogstad Guidera earlier today.
"Solid business practices supported by a broad offering of games to our players and the opportunity for our valuable retail partners to earn commissions and bonuses are what led to this record year," said Gee. "We had positive impacts in every corner of the state, from players winning record amounts of prizes to retailers benefitting from their ticket sales. All of this means great news for our K-12 public schools."
The profits average out to more than $2.13 million per day raised by the lottery for K-12 public schools in the Commonwealth.
"Lottery funds traditionally make up roughly 10 percent of Virginia's overall K-12 education budget and support vital programs in every school district in the Commonwealth," said Guidera.  "These funds are indispensable to our efforts to ensure every student in the Commonwealth – regardless of zip code – is prepared for success in life."
The record profit came from total lottery sales of more than $3.75 billion.
Among the highlights:
Sales from online purchases steadily rose for the second full year, remaining a hit with consumers since first becoming available in 2020.
Players continued to purchase at the lottery's more than 5,300 traditional brick-and-mortar stores, which resulted in retailers earning $138.6 million in commissions and bonuses for selling and redeeming lottery tickets during the year.
Of the $3.75 billion in lottery sales for the year, more than $2.67 billion, a record, went back to players as prizes.
During the year, approximately 71 cents of every dollar spent on tickets went to prizes.
The biggest prize won during the year was $10 million by a Haymarket woman who scratched an Extreme Millions ticket she received from her husband for Valentine's Day.
More than $17.1 million of prize money went unclaimed during the year. By law, that money is deposited in the literary fund, which provides low-interest loans to localities for public school construction, renovations and technology upgrades.
More than $6 million in prize money was collected from winners who owed unpaid child support or outstanding fines and debts, as part of Virginia's debt set-off program.
Mobile sports betting and casino gaming
In addition to overseeing the lottery's success, the Virginia Lottery Board has settled into its expanded role of licensing and regulating mobile sports betting and casino gaming. By the end of the fiscal year on June 30, Virginia had 13 licensed active sports betting permit holders.
The first Virginia licensed casino, Hard Rock Bristol, opened its doors on July 8, just after the end of the fiscal year.
HR Bristol generated $11.7 million in adjusted gross revenues from slots and table games in the month of July, according to a report released by the Virginia Lottery on Monday.
"Virginia's gambling environment is rapidly evolving and growing with sports betting and casinos," said Lottery board chairman Ferhan Hamid. "The lottery board's role in licensing and regulating these entitles is vital to ensure fairness, integrity and transparency. Those are values that have characterized the lottery for nearly 34 years."
The taxes generated by sports wagering and casino gaming will not go to K-12 education – instead benefitting other priorities of the Commonwealth as determined by the General Assembly.