'Hoos in the NBA: Big night for Dre in Hawks' loss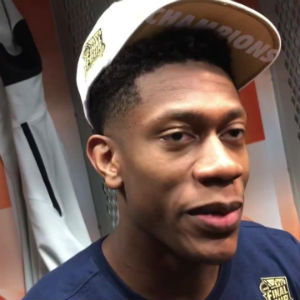 De'Andre Hunter had a big night in an Atlanta Hawks loss on the road at Philadelphia on Monday.
Hunter had 22 points in 39 minutes for the Hawks, shooting 6-of-15 from the floor, 1-of-6 from three and 9-of-10 at the free-throw line, in the 129-112 loss.
Atlanta rallied from a 41-24 first-quarter deficit to actually lead 92-91 at the end of three.
Trae Young led the Hawks (17-42) with 28 points.
For the season, Hunter, a 2019 UVA Basketball alum, is averaging 12.5 points and 4.1 rebounds per game, shooting 41.3 percent from the floor, 34.9 percent from the three-point line and 77.0 percent from the free-throw stripe.
Justin Anderson playing for Team USA
Justin Anderson has a moonlighting gig with Team USA in the FIBA AmeriCup Qualifying Games.
Team USA is 2-0 in the tournament, a qualifier for the 2024 Olympics, and Anderson had 17 points and six rebounds for the national team in a win over Puerto Rico on Sunday.
Back at this day job on Monday with the Long Island Nets of the NBA G-League, Anderson had 17 points, 10 assists and seven rebounds in a 123-84 win over Greensboro.
Anderson is averaging 21.5 points, 6.8 rebounds and 2.5 assists per game in G-League play this season, shooting 48.6 percent from the floor and 35.6 percent from deep.
Updates
Malcolm Brogdon (Indiana, NBA): 16.3 ppg, 7.2 assists/g, 43.0% FG, 30.8% 3FG
Joe Harris (Brooklyn, NBA): 13.7 ppg, 47.0% FG, 40.6% 3FG
Mike Scott (Philadelphia, NBA): 5.5 ppg, 39.6% FG, 34.1% 3FG
Ty Jerome (Phoenix, NBA): 3.8 ppg, 1.6 assists/g, 36.2% FG, 27.5% 3FG
Marial Shayok (Delaware, G-League): 23.1 ppg, 5.4 rebs/g, 3.4 assists/g, 45.5% FG, 35.1% 3FG
Kyle Guy (Stockton, G-League): 20.5 ppg, 4.2 assists/g, 40.5% FG, 39.3% 3FG
Story by Chris Graham
Comments