Fishburne wrestling has eyes on nationals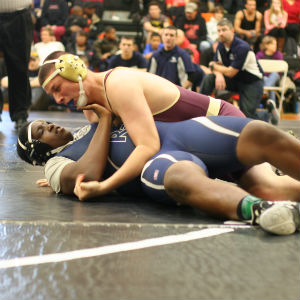 First-year Fishburne Military School wrestling coach Terry Waters has his eyes on the prize.
His Caissons are an impressive 10-3 at the midpoint of the 2015-2016 season, but the focus is on the big meets in the second half of February.
"Right now, I'm looking for improvement more so than the wins," said Waters, who came to FMS from the college level, where he had most recently been the top assistant at Washington and Lee University.
"You want to win every time out, but we're shooting for having some kids standing up on that stand at the state tournament. We want to have kids at the national tournament, and I think we have that potential. I think we have some national-tournament competitors here. We just have to work hard and stay disciplined," Waters said.
Before his stint at W&L, Waters had success at the prep level, with a career record of 233-65 at Riverheads and Fort Defiance, earning six district coach of the year honors along the way.
Getting into the ins and outs of coaching at a private school has been "a learning experience," Waters said.
"These young men face a lot of the same challenges that the college kids are faced with, with academics and all of that. That's something that I'm already used to dealing with from the college experience, so we're able to work together through those challenges," Waters said.
A key difference between Fishburne and a public high school is the winter break.
"My young men left Dec. 18, and I didn't see them again until Jan. 3, and then we don't have another meet until Jan. 14. The public schools don't have that. They have their kids all the way through. So they're practicing, they're competing, whereas my kids, they're on their own for a couple of weeks," said Waters, who preached to his wrestlers "to stay active" when they were on break, "but whether or not that's done is another matter."
"So we're back to stressing conditioning again this week, so we're back to basics. That's the challenge," Waters said.
Among the standouts for the Caissons this winter have been sophomore Matthew Farrar at 126, who has started 16-0 this season, and junior Clayton Berry, who is 9-0 to start the season.
Senior Shaheen Alfarha has also been impressive at heavyweight, taking the championship against a loaded field at the Cody Day Memorial in Chatham last month.
"I'm pleased with what I'm seeing. It's a matter of how it all comes together," Waters said. "The regular season is just quizzes. The final exams are the conference tournament, the state tournament. The bottom line is the big dance, and that's the state tournament. If you're not at the state tournament, you haven't done what you needed to do."
– Story by Chris Graham
Comments