Fishburne postgrad basketball in preseason Top 10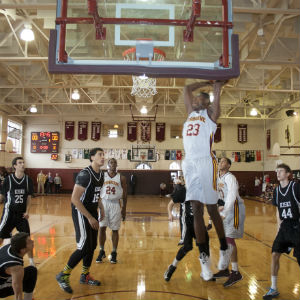 The Fishburne Military School postgraduate basketball team begins the 2014-2015 season ranked in the NextUp Recruits national top 10.
Fishburne was ranked fourth in the rankings released this week. Brewster Academy begins the season at #1. Northfield Mount Hermon, which has knocked the Caissons out of the National Prep Championships each of the past two years, is #2, with in-state rival Hargrave Military Academy at #3.
The FMS roster features two of the nation's top 25 PG recruits – Lyrik Shreiner, a 6'4" two guard ranked as the ninth-best recruit by Hoop Scoop and is currently undecided, and Devenir Duruisseau, a 6'9" power forward rated as the 21st-best recruit by Hoop Scoop, who has verbally committed to the University of Washington.
Fishburne begins its 2013-2015 season on Sunday against the Virginia Tech club team at home on campus at FMS. Tip-off is at 2 p.m.
National Post Grad Rankings
1) Brewster Academy (NH)
2) Northfield Mount Hermon (MA)
3) Hargrave Military Academy (VA)
4) Fishburne Military School (VA)
5) New Hampton School (NH)
6) St. Thomas More (CT)
7) Elev8 Prep (FL)
8) Notre Dame Prep (MA)
9) Putnam Science Academy (CT)
10) South Kent (CT)