Fishburne Military School superintendent announces retirement
Gary Morrison accepts offer to head military families scholarship program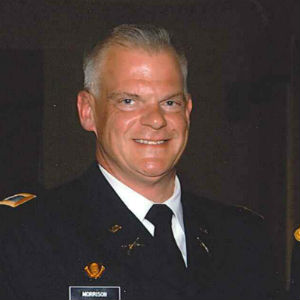 Fishburne Military School Superintendent COL Gary R. Morrison (VA)  announced in a letter to faculty, staff, parents, alumni and trustees on Wednesday that he had accepted an offer from NewDay USA to be vice president of the NewDay USA Foundation.
Morrison, himself a 1981 graduate of Fishburne Military School, will continue to serve as Head of School until the completion of his contract on May 31, 2016.
In his letter, Morrison notes that "while I will miss Fishburne, especially the cadets – all of whom I have grown to love, I am extremely excited about the opportunity to work for NewDay USA as they serve veterans and their families."
The NewDay USA Foundation is built on the guiding principles of better financial education, improving veteran housing and providing generous scholarships to deserving students.
During his tenure as Head of Fishburne Military School, Morrison:  oversaw the refurbishing and repurposing of both the JROTC Leadership Building and the Alumni & Development Center; forged a relationship with NewDay USA which led to a new scholarship program for the children of disabled veterans; bolstered grant-writing efforts which contributed to over $1M in physical plant improvements; presided over FMS' designation as a Blue Star Memorial site; and whole-heartedly supported his Caissons football team as they claimed their first undefeated season in 100 years.
J.B. Yount III, Esq., Chairman of the Fishburne-Hudgins Educational Foundation, Inc. (F-HEF), praised Morrison's service to the school, saying: "Ever since his graduation in 1981-which I remember well-right through his outstanding tenure as superintendent, Colonel Gary Morrison has been a bright star in the constellation of Fishburne Military School. He leaves us in exceptional condition, sound financially, with a staff, faculty, and cadet corps flourishing in the rich environment that is the Fishburne of today, all thanks in no small way to him. We wish him well in his worthy new endeavor and will always welcome him here where we intend to continue educating young men to excel in the duties, challenges, and responsibilities of life."
Elizabeth Green, a parent of two Fishburne graduates and fellow board member of the F-HEF, also fondly notes: "Gary Morrison brought charisma and life to Fishburne and ushered the school into a new era where technology meshed with traditional formations and parades.  Gary is an excellent leader, who led by example and his impact on the lives of the cadets he served was tremendous.  I am pleased that Gary will be instrumental in selecting new leaders who would not otherwise have the opportunity to attend military school.  I wish him the best of luck in his new position and I know he will continue to shine."
As he begins this new chapter, Morrison writes, "I consider the opportunity to have served the Fishburne community – its alumni, staff and most importantly its wonderful cadets and their families – a huge honor and privilege that I will cherish for a lifetime … As for next year, please save me a seat on the hill for the first football game of 2016!"
Comments