Dr. Glen Michael at Augusta Health is EMS Council's Outstanding EMS Physician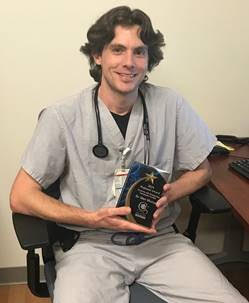 Glen Michael, MD, an emergency department physician at Augusta Health, has received the 2019 Central Shenandoah EMS Council Regional Award for Outstanding EMS Physician.
Dr. Michael was recognized for his dedication and involvement as Operational Medical Director of Augusta Health Transportation Services, and his commitment to constant improvement of patient care, equipment and staff education.
Michael has been active in reviewing and updating protocols and procedures and has overseen and attended all skills drills. He's also worked to purchase new equipment such as video laryngoscopies and Airvo2 devices to deliver high flow oxygen.
As the award recipient, he has been nominated for the Governor's EMS Award. The Governor's Award will be announced in November.
Comments