Best Blockchain Games to Invest In 2023
Blockchain games bring video games to the blockchain, enabling new forms of ownership in gaming and new dynamics for how players can earn while gaming. Many blockchain games are also developing expansive new metaverses for players to explore.
In this guide, we'll highlight the 10 best blockchain games to invest in for 2023 and explain why investors should consider blockchain games.
Top Blockchain Games to Invest in Now
We've picked out the 10 best blockchain games to invest in for 2023:
Tamadoge – New Play-to-earn Game Based on Doge Meme
Battle Infinity – Best Blockchain Metaverse Game for 2023
Lucky Block – P2E Crypto Game with Daily Giveaways
Silks – Exciting Play-to-earn Blockchain Game for Horse Racing
Gods Unchained – P2E Trading Card Game for Magic Fans
STEPN – Move-to-earn Crypto Game with Valuable NFTs
Illuvium – Open-world RPG Blockchain Game
Axie Infinity – Popular NFT Game for Pokemon Lovers
Spider Tank – One of the Top Battle Royale NFT Games
Star Atlas – Highly Anticipated Metaverse Game Set in Space
The Best Blockchain Games Reviewed
Want to know more about the top blockchain games of 2023? We'll dive deep into our top picks and explain how blockchain games work.
1. Tamadoge – New Play-to-earn Game Based on Doge Meme
Tamadoge is a brand new play-to-earn (P2E) crypto game built around the ultra-popular doge meme. In Tamadoge, players can spend TAMA, the game's native cryptocurrency, to buy NFT pets. Each pet has its own randomly generated stats, strengths, and weaknesses, and the way that players care for their pets can influence their stats as well.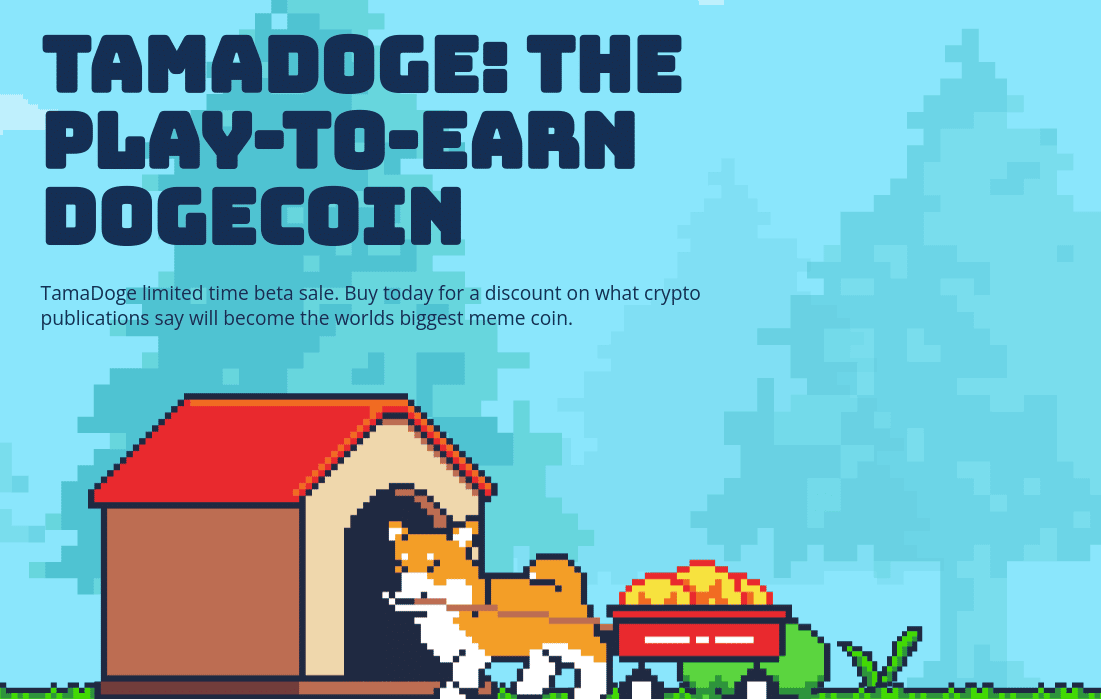 Once these NFT pets reach adulthood, players can battle them against one another in Tamadoge's virtual arena. Winning players climb the Tamadoge leaderboard and earn crypto rewards in TAMA tokens. They can then spend TAMA to buy more NFT pets, purchase upgrades from the Tamadoge marketplace, or sell TAMA on exchanges for Bitcoin and other cryptos.
What's great about TAMA for investors is that the coin is deflationary. For every transaction of NFTs or upgrades in Tamadoge, 5% of the TAMA used in the transaction is removed from circulation and burned. As a result, the supply of TAMA decreases over time. What's more, the supply of TAMA will decrease more quickly as more players join Tamadoge and demand for TAMA increases.
Tamadoge is currently offering TAMA to early investors through one of the best crypto presales of 2023. Investors can buy TAMA with a credit card, Ethereum, or Tether at pre-ICO prices. Importantly, the Tamadoge presale is capped and the price of TAMA increases as the sale hits its milestones. So, check out the Tamadoge presale today to get the best price on TAMA.
2. Battle Infinity – Best Blockchain Metaverse Game for 2023
Battle Infinity is another new crypto game for 2023 with a lot to offer. The goal of this platform isn't just to create a single blockchain game, but rather to build a metaverse where developers can build their own mini-games. The ultimate result is what Battle Infinity calls a multiverse within the metaverse.
Battle Infinity's metaverse will run on IBAT, the native cryptocurrency of this new ecosystem. IBAT is used to buy upgrades and accessories in the Battle Infinity marketplace, to buy NFTs used to access games, and as a reward for winning players. This new cryptocurrency can also be staked to the platform, creating more financial incentives for players and investors.
Battle Infinity is kicking off its new metaverse with a fantasy sports game called IBAT Premier League. This game is based on the popular Indian Premier League for cricket and enables players to build their ideal team while staying within budget. At the end of the season, winning players are rewarded with IBAT tokens for their success.
Battle Infinity just concluded one of the best crypto crowdsales of 2023, raising more than $5 million for the platform through IBAT sales. Investors still have a chance to get in early on IBAT, as the platform is listing the coin on the decentralized exchange PancakeSwap.
Check out the Battle Infinity ICO to buy IBAT today.
3. Lucky Block – P2E Crypto Game with Daily Giveaways
Lucky Block is a popular play-to-earn crypto game with a community of more than 57,000 current token holders. This blockchain game is all about giveaways in different forms. The main Lucky Block giveaway is a cash drawing that players can enter for a chance to win. The lucky player receives a crypto grand prize.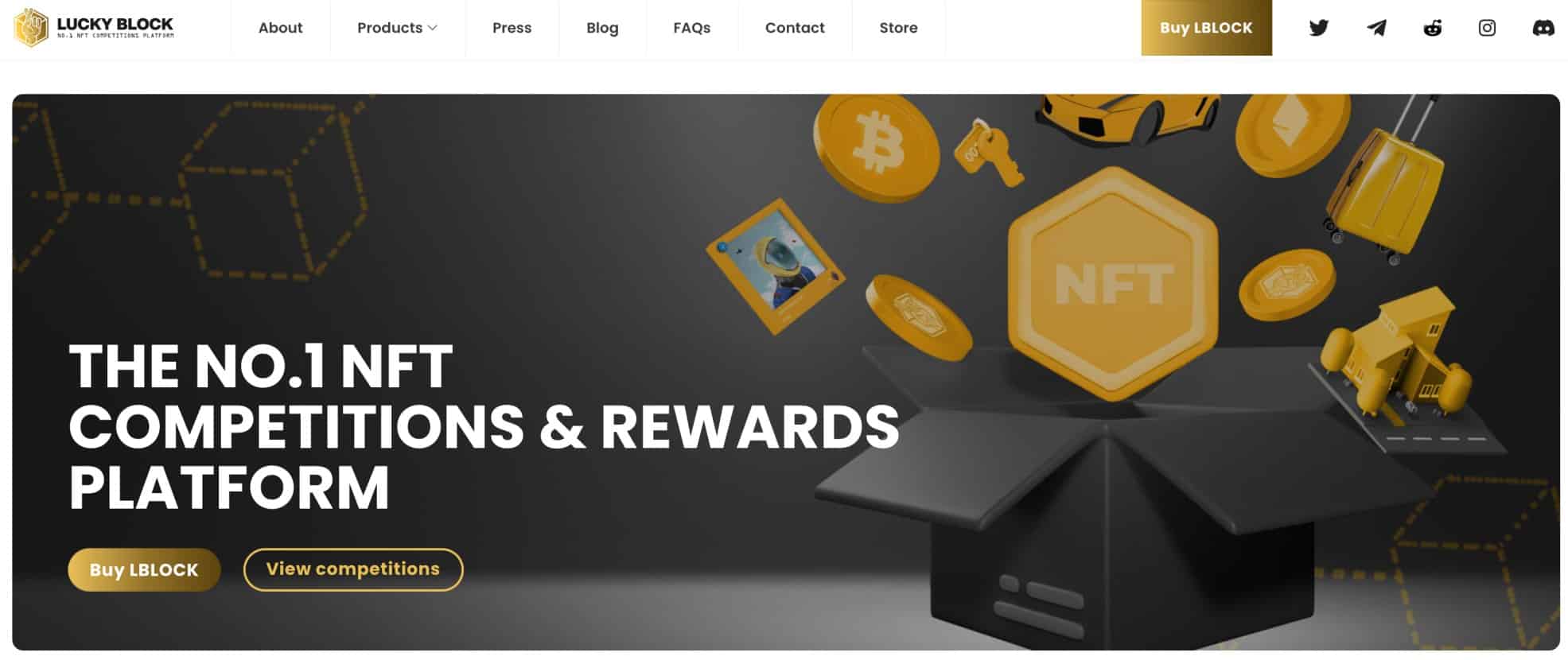 What's great about Lucky Block is that token holders also receive a piece of the prize. A portion of each crypto grand prize is set aside to be paid out to LBLOCK token holders as a reward. Another portion is set aside for charity, and token holders get to vote on which charity receives the crypto. (messinascatering)
Lucky Block also has an NFT game based around its collection of 10,000 Platinum Rollers Club NFTs. NFT holders have a 1-in-10,000 chance of winning $10,000 every single day. Those are relatively good odds, and NFT holders can earn steady income by lending out their NFT as well.
Lucky Block recently introduced a version 2 of the LBLOCK token, this one based on Ethereum. LBLOCK v2 doesn't offer the same crypto rewards as the original token, but it does offer access to a wider range of giveaways. Current prizes include a Lamborghini, a 5-star hotel stay, and a $1 million house.
Lucky Block's tokens are available on PancakeSwap and other decentralized crypto exchanges. The platform plans to merge the v1 and v2 LBLOCK tokens in the near future to make them interchangeable.
4. Silks – Exciting Play-to-earn Blockchain Game for Horse Racing
Silks is one of the best blockchain games of 2023 for anyone who loves the thrill of betting on horse races. In Silks, players can have their own virtual thoroughbred horses, each one a one-of-a-kind NFT. Each racehorse starts as a foal and is a digital twin of a real-world foal born to US-based thoroughbred stables in the prior year.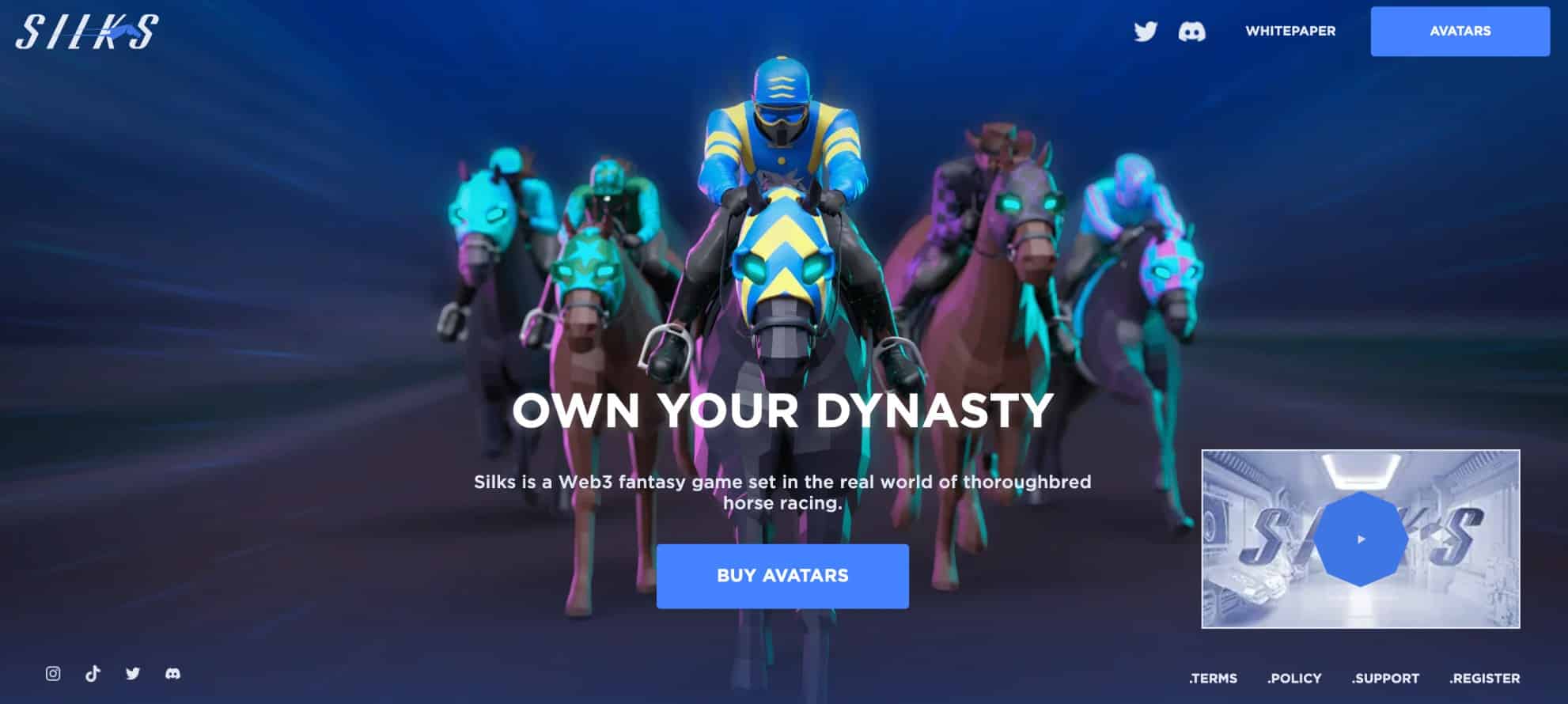 Players earn rewards in STT tokens when the real-world twin of their digital racehorse wins in competitions. They can then use STT to purchase more NFT horses or to enter a horse ownership pool with other players and increase their chances of winning. Silks also allows players to syndicate their horses or to set up breeding programs to create completely new NFTs.
The pool of available NFTs in Silks grows each year as new racehorses are born. However, inflation is kept at bay as horses are also retired as they age. Silks offers races for retired horses where players can earn STT. Players can also earn STT within Silks by developing land, running horse farms and stables, or by staking the SLK governance token to the platform.
Silks recently released its collection of NFT avatars for the blockchain game. Players who own avatars will have first access to virtual horse NFTs when they're released later this year and the game fully launches. Investors in Silks avatars can also look forward to an exclusive upcoming crypto presale.
5. Gods Unchained – P2E Trading Card Game for Magic Fans
Gods Unchained one of the best blockchain games for fans of Magic: The Gathering. In fact, this play-to-earn crypto game was designed by one of the creators of Magic.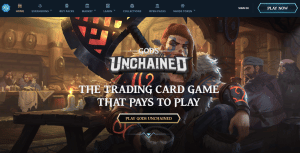 In Gods Unchained, players develop decks of cards to battle opponents. The game is very strategy-based, so players can win by developing a carefully crafted deck and triumph even if they don't necessarily have the best hand at first glance.
Every card in Gods Unchained is an NFT and players are free to sell and trade their NFTs in the game's marketplace. All transactions are facilitated using the in-game GODS cryptocurrency, which is also distributed as a reward for players when they win battles.
GODS is available on most major crypto exchanges. There's no cost to start playing Gods Unchained, since every new player is given a free starter deck. However, the play-to-earn structure of the game incentivizes new players to purchase specialized cards and start crafting a winning strategy.
6. STEPN – Move-to-earn Crypto Game with Valuable NFTs
STEPN is the world's first 'move-to-earn' crypto game, which rewards players with GMT tokens for walking, jogging, and running. The key to making money with STEPN is owning a virtual NFT sneaker, which offers a short time window each day when players' steps count towards earning crypto. Players can continue to move outside of this time window, but that exercise won't count towards earning money.

The more sneakers players stack, the more time they have each day to earn rewards and the more they can stack NFTs' special abilities to earn rewards. Players can use GMT to buy sneakers as well as in-game upgrades, or exchange their GMT tokens for Bitcoin and other major cryptocurrencies at any time.
STEPN's sneakers are available on major NFT marketplaces such as OpenSea. The floor price is currently 1.6 SOL, which is equal to around $70.
7. Illuvium – Open-world RPG Blockchain Game
Illuvium is an open-world RPG game built on the blockchain. In Illuvium, players can explore the metaverse, complete epic quests, and battle other players for dominance. All of these different paths offer players a chance to earn ILV tokens, which can be used to purchase NFT upgrades and accessories within the game.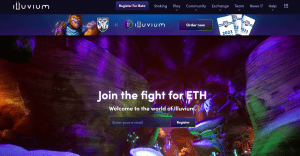 The Illuvium world also includes more than 100 mythical creatures call Illuvials, which are available to players to collect as NFTs. Players who own Illuvials can sell or trade them at the in-game marketplace.
The ILV token is somewhat unique because it carries no gas fees on the Ethereum blockchain for peer-to-peer trading thanks to an integration with Immutable X. That makes this token much more liquid than other blockchain gaming cryptos for investors. ILV can also be staked, offering potential rewards for ILV token holders.
8. Axie Infinity – Popular NFT Game for Pokemon Lovers
Axie Infinity was one of the first NFT games and it remains one of the most popular. In this game, players explore a virtual world and collect creatures known as Axies. Each creature is an NFT with its own abilities, and players can deploy creatures in battles against other players.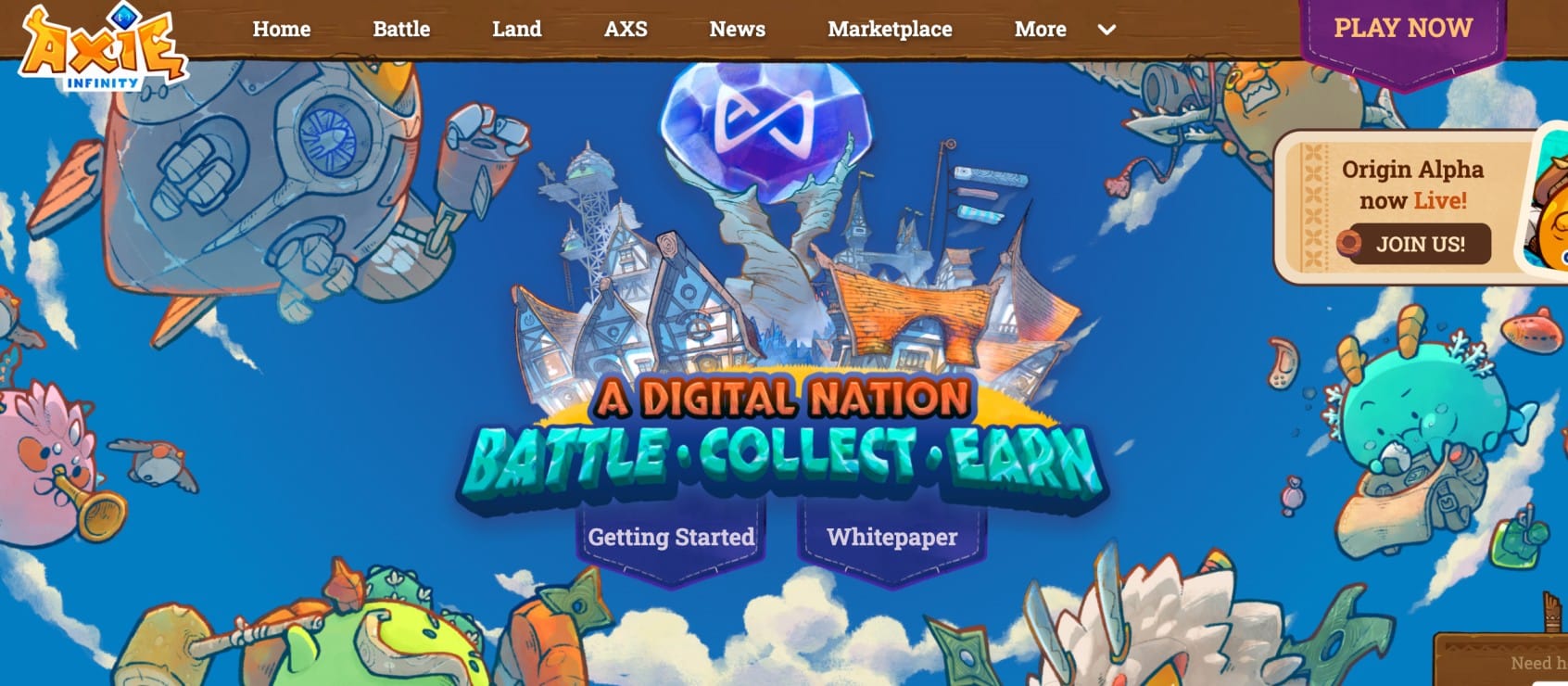 The in-game cryptocurrency of Axie Infinity is SLP, short for Smooth Love Potion. SLP is distributed as a reward to players and is used for in-game purchases such as upgrades. Players can also earn SLP by lending out their Axies or selling them in the Axie Infinity marketplace.
Axie Infinity has more than 2.8 million active daily players and the most expensive Axie ever sold fetched a price of $820,000. In addition, the game's marketplace sees more than $3.6 billion in transaction volume. So, this is one of the best blockchain games for investors to take a closer look at.
9. Spider Tanks – One of the Top Battle Royale NFT Games
Spider Tanks is an up-and-coming NFT game that allows players to duke it out in a battle royale arena. Players can join free for all games or play in small teams for highly coordinated combat.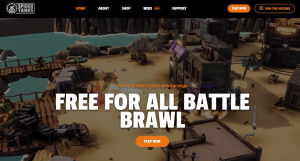 At the heart of this game are the tanks themselves, each of which is a customizable NFT. Players can purchase accessories and upgrades like armor and weapons in the Spider Tanks marketplace, creating an opportunity for endless customization.
Winning players in Spider Tanks can earn the game's native cryptocurrency, Arachnium. This token is the main form of exchange for NFTs and upgrades and can be purchased at several decentralized exchanges. Winning players in Spider Tanks earn Arachnium for their victories, helping create incentive for more players to join the battle and upgrade their tanks.
10. Star Atlas – Highly Anticipated Metaverse Game Set in Space
Star Atlas is one of the most highly anticipated blockchain games of 2023. This elaborately crafted game is built inside a custom space-themed metaverse that players can explore. The metaverse is enormous and the team behind Star Atlas has plans to expand it even more as the game's popularity grows.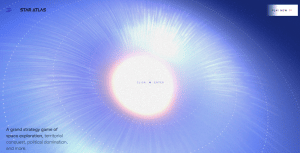 The neat thing about Star Atlas is that there are so many ways for players to interact with this game. Players can search the ends of the metaverse for NFTs as they complete quests, or they can battle other players in their NFT starships. Or they can become traders or asteroid miners to earn in-game rewards in the form of ATLAS tokens.
While Star Atlas hasn't yet launched, the game already has more than 170,000 active members in its Discord community. Investors should look forward to this game being one of the hottest metaverses in the blockchain space.
Should You Invest in Blockchain Games?
Why should investors care about the best blockchain games? The answer is that play-to-earn crypto games now make up an important part of the blockchain ecosystem and hold a lot of financial potential for those who get in on blockchain gaming early.
Here are a few of the key reasons investors should consider blockchain games.
Growing Popularity
The biggest tailwind for blockchain games is their popularity. Games like Axie Infinity have demonstrated that there are millions of people who will play blockchain games if good options exist. New games like Tamadoge and Battle Infinity aim to take the potential of blockchain games to the next level.
As the popularity of top blockchain games grows, so too will demand for the native cryptocurrencies of these games. That can push up the price of the tokens or the NFTs required to play the game and earn.
Play-to-earn Incentives
Many of the best blockchain games of 2023 are play-to-earn games, meaning that players and investors can earn cryptocurrency when they play and win. This creates a lot of incentive for players to join a game and spend money in the in-game marketplace on upgrades that can help them win more easily.
The more money that gets spent in the marketplace and the more that's paid out in rewards, the more demand for a token goes up. That's a benefit for investors since higher demand often equates to higher prices. In addition, tokens that are paid out in rewards to players are often more liquid because they form the backbone of these games' economies.
Tokenomics
The tokenomics of top blockchain games can also make gaming tokens attractive to investors. Tamadoge, for example, offers a deflationary token that decreases in supply the more people that play the game. This means that as the popularity of a game like Tamadoge grows and demand for the coin increases, supply decreases and pushes up the value of the token.
The Argument Against Blockchain Games
Investors may want to be wary of blockchain games, however. Valve, the company behind the PC games store Steam, recently announced a ban on NFT games in its marketplace. The Valve blockchain games ban is a major hit to blockchain game developers since Steam is one of the largest markets for traditional games.
It's worth noting, though, that competitor Epic Games announced that it would still be open to hosting NFT games in its marketplace. That could leave a window open for widespread adoption of blockchain gaming across the most popular gaming platforms today.
Conclusion
The best blockchain games offer attractive tokenomics, play-to-earn incentives for players, and exciting new metaverses for gamers to explore. For investors who want to invest in top blockchain games, it's worth checking out Tamadoge and Battle Infinity.
Tamadoge is creating a doge-themed blockchain game with a deflationary cryptocurrency. Battle Infinity is building an open metaverse where anyone can create their own mini-games. Tamadoge's TAMA coin is currently available on presale, while Battle Infinity's IBAT token is available on PancakeSwap.
FAQs
What are blockchain games?
What is the top blockchain game right now?
What is the best new blockchain game launching this year?