Craig R. Stevens joins Battlefields Foundation staff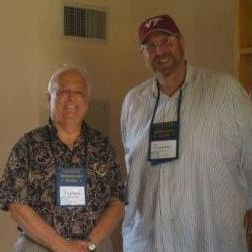 Craig R. Stevens has joined the staff of the Shenandoah Valley Battlefields Foundation as the new Director of Development and Government Relations.
In this role, Stevens will be responsible for developing and maintaining relationships with government officials and agencies; for working to secure federal, state, and local assistance; for the SVBF's fund-raising campaigns and development initiatives – including membership, annual fund, major gifts, legacy giving, and quarterly appeals – and for planning, implementing, and maintaining the development activities and initiatives of the Foundation.
Stevens previously served on the SVBF's Board of Trustees from 2016-2017.
"I'm very excited to join SVBF at this crucial time," Stevens said. "Having served as a Board member the last two years I know the many accomplishments and tremendous effort expended by Keven Walker, the rest of the staff, and the Board to fulfill the vision of the Historic District established in 1996. I look forward to working with everyone involved to help advance that vision to reality."
Stevens is also one of the SVBF's largest financial supporters – one of the top 20 givers in the SVBF's history, and a 5-Star Member of the prestigious Shenandoah Guard. That long track record of backing up his belief with his generosity gives him instant credibility when it comes to asking others to support the SVBF's work.
"Craig has been hired to fill a senior level staff position that we feel is absolutely essential to the future of battlefield preservation in the Valley," said Keven M. Walker, CEO of the Battlefields Foundation."
Before joining the SVBF staff, Stevens served for 34 years in public accounting, the last 21 as a Partner at Aronson LLC in Rockville, Maryland where he led the Firm's Nonprofit Industry Services Group. He specialized in accounting, auditing, taxation, internal controls systems and fundraising. He also earned the Chartered Advisor in Philanthropy (CAP) designation and in addition to SVBF has served on the Boards of the Virginia Tech Athletic Fund, Bread for the City, The Fairfax County Park Foundation and the National Capital Gift Planning Council. He earned his Bachelor's of Business Administration Degree from Virginia Tech in 1983.
"We're unbelievably fortunate to have Craig join our team," said Walker. "His skills and experience make him a perfect fit for this pivotal role. The work of the Battlefields Foundation only continues to increase, as do our responsibilities. To keep pace, and to reach our lofty goals, we need to continue to grow our resources and support base to match. Craig Stevens is just the man to make that growth happen."