Wall Street Memes is back once again with a bang, ready to provide an impressive price surge to its enthusiastic community of investors and traders. After a highly successful presale and several top-tier exchange listings, Wall Street Memes introduces its GambleFi product, the Wall Street Memes casino. This flagship product is poised to supercharge the portfolios of $WSM holders, and the crypto community is abuzz with excitement.
In this article, we will explore the new launch of the Wall Street Memes Casino and why it is expected to have a significant impact on the price of WSM. We will further check out other features Wall Street Memes has to offer its enthusiastic community.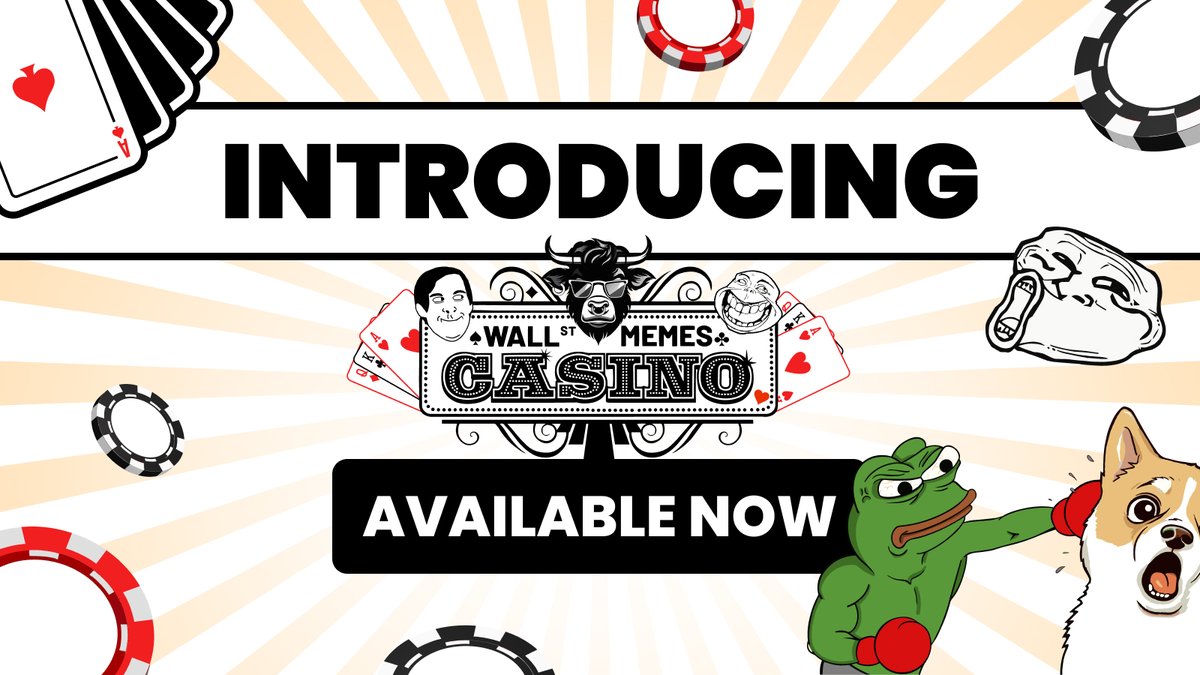 Buy Wall Street Memes Coin Now
Wall Street Memes Recap: A Revolutionary Meme Coin
It is rare to witness meme coins gain popularity at their early stages in the market. However, this is not the case with Wall Street Memes, as it had over a million active individuals supporting the project and riding on its revolutionary spirit.
In an attempt to poke fun at the traditional Wall Street, Wall Street Memes gained momentum during its 20-stage presale, raising over $25 million in capital. This token enjoyed top-tier exchange listings like OKX, Gate.io, and LBank and currently trades at $0.02 per token. 
Another remarkable aspect that Wall Street Memes became a widely acclaimed meme project is the endorsement it received from influential figures, including Elon Musk. Musk, known for his vocal support of cryptocurrencies like Dogecoin, interacted with Wall Street Memes' tweets multiple times. This frequent interaction spurred many savvy investors to accumulate WSM tokens right from the presale stage and are holding large bags, waiting for a massive swing in price.  
Wall Street Memes Casino: A True GambleFi Revolution
Now that we are up to speed about Wall Street Memes, let's dive into the heart of its new product, the Wall Street Memes Casino. The WSM casino is set to raise the stakes in the GambleFi space.
This revolutionary platform boasts a remarkable repertoire of over 5,000 high-octane games, including a suite of exclusive games for WSM holders. The fun doesn't stop there, as sports fanatics will find over 1,000 live sports betting opportunities at their fingertips.
This Wall Street Memes casino stands out by accepting a range of cryptocurrencies, making it accessible to those holding Bitcoin (BTC), Ethereum (ETH), or any stablecoin. Furthermore, it shines brightly in integrating the platform's native token, WSM, which rewards first-time depositors with 200 free spins to play their favorite slot games.
Wall Street Memes Casino seamlessly integrates with Telegram, a popular messaging app, ensuring your favorite games are just a click away in your chat. This means you can engage in your preferred games without needing to switch between tabs or apps on your mobile devices. Consequently, you can discuss market analysis with other traders or exchange memes while simultaneously placing a bet or spinning a slot.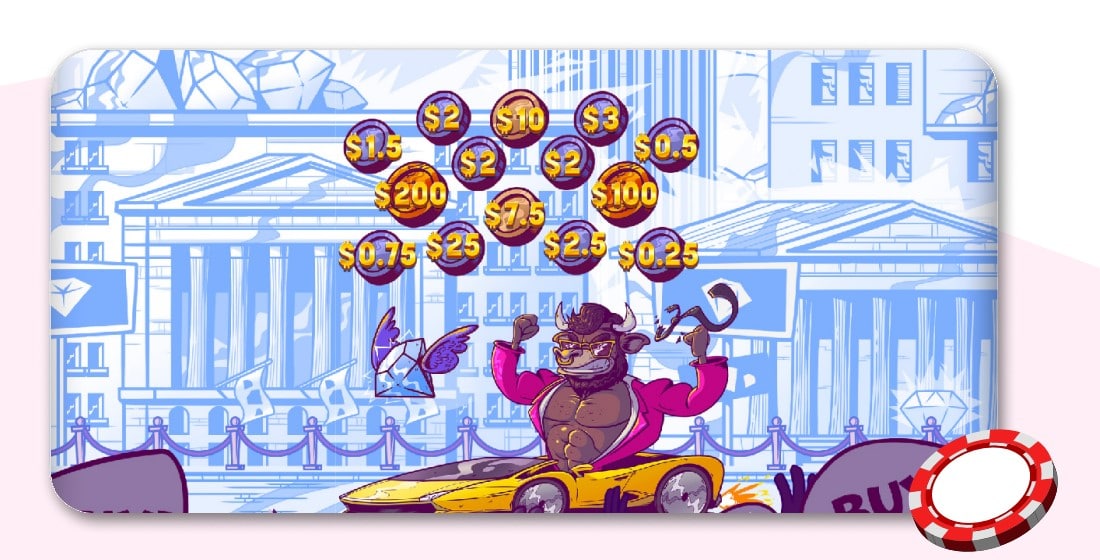 Buy Wall Street Memes Coin Now
 Wall Street Memes Casino Will Feature Incredible Bonuses, Free Spins, and Exclusive Programs
Aligning with Wall Street Memes' philosophy, this WSM Casino ensures that every player feels like a high-roller. Making a first-time deposit in any accepted cryptocurrency earns you up to a 200% deposit bonus. Imagine depositing $1000 and finding $3000 waiting in your wallet.
If you are a loyal WSM holder, depositing the tokens can yield up to 200 free spins on popular slot games. All that is required to be eligible is to make a minimum deposit of just $30 worth of WSM. As a WSM holder, you enjoy more incentives as the casino offers a Diamond Hands Loyalty Program.
Wall Street Memes is committed to its ecosystem and its enthusiastic community. A notable 10% of gaming net revenue goes back into the ecosystem. These funds will be used to buy back WSM tokens and enrich staking reward pools and casino rewards.  
Wall Street Memes Offers Incredible Stake-To-Earn Opportunities to WSM Holders
Beyond its post-presale hype and impressive GambleFi product, Wall Street Memes rewards its community with a lucrative staking mechanism. This Stake-to-Earn platform offers a promising 42% annual percentage yield (APY). Remarkably, about 27% of the total $WSM supply is staked, showcasing the community's commitment to this project long-term.
With a freshly updated Wall Street Memes website, several new features have been added. This includes an exciting burn mechanism, where community-burned $WSM is matched by an equal burn from the project's supply.
Looking ahead, Wall Street Memes has a comprehensive roadmap that extends until the end of 2024. This roadmap includes plans for exclusive high-roller communities, marketing campaigns, partnerships, more WSM-exclusive games, and a new affiliate program for the WSM Casino. With a rock-solid foundation, a dedicated community, and an ambitious roadmap, Wall Street Memes (WSM) is sure to provide excellent utilities and investment gains to early investors.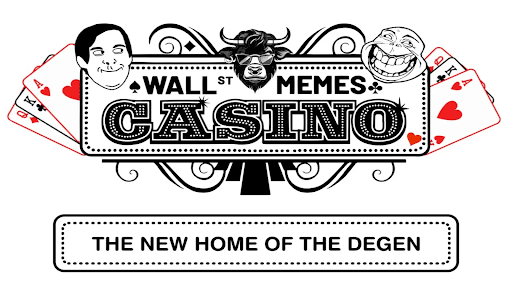 Buy Wall Street Memes Coin Now
Final Thoughts: Get Ready for a Massive Price Surge with Wall Street Memes
After an impressive start to the crypto space, Wall Street Memes continues providing impeccable utilities for its WSM holders. Beyond the hype surrounding its post-presale phase, Wall Street Memes boasts a solid use case and a dedicated community of over one million social media followers.
With its introduction of the Wall Street Memes casino, users can delight in fantastic games on the Telegram app and enjoy amazing payouts. Moreover, the project offers a high-yield staking protocol, differentiating it from countless other meme coins lacking real-world utility. 
With WSM currently trading at a market price of $0.02, there's potential for a significant upward movement soon. Therefore, endeavor to add this crypto to your portfolio to enjoy massive earnings when its price surges.