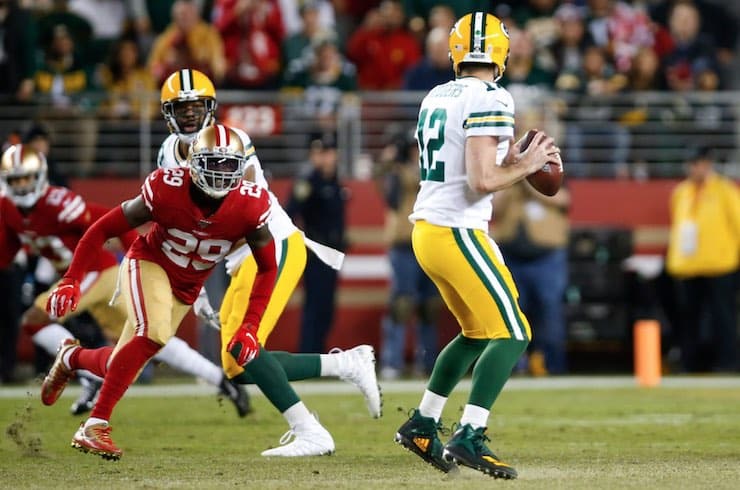 The San Francisco 49ers will get set to host the Green Bay Packers in Week 1 of the 2022 NFL Preseason on Saturday night.
Green Bay enters the preseason opener favored by three points on the road in San Francisco. Both teams have confirmed that at least some starters will see action in the first preseason game of the year.
Can Trey Lance and the 49ers get off to a strong start at home versus Green Bay on Saturday night?
The Best NFL Betting Sites For Packers vs 49ers
---
RELATED: The Best US Sports Betting Sites
---
NFL Preseason Betting Guide
🏈 NFL Game: Green Bay Packers vs San Francisco 49ers
📊 NFL Records: Packers (0-0) vs 49ers (0-0)
📅 Packers vs 49ers Date: August 12, 2022
🕛 Packers vs 49ers Time: 8:30 pm ET
📺 TV Channel: NFL Network
🏟 Venue: Levi's Stadium
🎲 NFL Odds: SF +3 (-125) | GB -3 (+105)
---
RELATED: The Best NFL Betting Sites
---
Packers vs 49ers Odds | NFL Preseason Odds
While starters are expected to play for both teams, the Packers are projected to have an edge in this matchup, thanks in large part to the presence of backup quarterback Jordan Love.
Love has impressed during Packers' training camp and will get plenty of opportunities to showcase his talent versus San Francisco.
Green Bay enters as three-point favorites on the road at Levi's Stadium. Meanwhile, the 49ers offer a little more value on the moneyline at +120 odds ahead of Saturday's preseason matchup.
For a complete breakdown of the NFL preseason odds for the Packers vs 49ers game, check out the chart below.
---
RELATED: NFL Odds
---
Packers vs 49ers News
Following a 10-7 season, the 49ers decided to officially close the books on the Jimmy Garropolo era. Head coach Kyle Shanahan has publicly backed second-year quarterback Trey Lance, who is expected to start under center in 2022.
Unlike other squads, Shanahan has said that Lance and the 49ers starters will play in Week 1 and Week 3 of the preseason, thanks in part to the team's compressed schedule.
Meanwhile, Packers' head coach Matt LaFleur also confirmed that at least a few of his starters will get an opportunity to play in the preseason opener.
Green Bay finished with a 13-4 record in 2021 but suffered an early exit from the 2022 NFL Playoffs at the hands of the 49ers.
Packers vs 49ers Injuries
Read on for a complete breakdown of the key injuries to look out for during the Packers vs 49ers game.
Packers Injuries
Innis Gaines, S – Questionable
Donte Vaughn, CB – Questionable
David Bakhtiari, OT – Out
Elgton Jenkins, G – Out
Randall Cobb, WR – Questionable
49ers Injuries
Emmanuel Moseley, CB – Questionable
Charvarius Ward, CB – Questionable
Arik Armstead, DE – Questionable
Packers vs 49ers Preview
This game will be a rematch of the 2021 NFC Divisional Round game from last year's playoffs.
San Francisco stunned the Packers with a 13-10 win in Green Bay to advance to the NFC Championship Game.
Even though this is an exhibition matchup, look for the Packers to be out for revenge on Saturday.
Read on for our preview of the Packers vs 49ers preseason game.
Packers to Start Jordan Love in San Francisco
Packers' head coach Matt LaFleur has confirmed that backup quarterback Jordan Love will start and see significant action against the 49ers on Saturday.
LaFleur ruled out starter Aaron Rodgers, who will likely sit for at least the first two preseason games.
There is a chance, however, that Rodgers plays a series or two in the preseason finale. LaFleur indicated that he may handle the starters differently in 2022 after the team came out with a dud in its NFL regular season-opener last season.
LaFleur said he'll make decision whether Rodgers will play this preseason after Packers-Saints next week, so he'll sit first two. LaFleur previously said he might handle starters differently because of season-opening dud last season. Rodgers didn't play at all last preseason.

— Matt Schneidman (@mattschneidman) August 8, 2022
This will be a make-or-break preseason for Love, who was drafted to eventually replace Rodgers as the franchise quarterback in Green Bay.
Love has reportedly made significant strides as a passer over the summer and the Packers will have to decide on his fifth-year option before the season is over.
Shanahan To Play 49ers' Starters Amid Compressed Schedule
This year, the 49ers will be playing their three NFL Preseason games in a span of just 13 days. The shortened schedule has forced head coach Kyle Shanahan to alter how he will deploy his starters during the exhibition season.
Instead of having the starters play in the second game, Shanahan has elected to give his starters snaps in weeks 1 and 3 of the preseason.
That means 49ers fans won't have to wait long to see how Lance has progressed under center. The former No. 3 overall pick in the 2021 NFL Draft, Lance saw limited action as a passer last season but will be handed the full reins to the offense in 2022.
It's evident that early in camp, Trey Lance trusts Brandon Aiyuk enough to give him a chance to make these phenomenal plays.

Always give your first-round receivers a chance to make these catches… pic.twitter.com/WnCY7vCJ9D

— Akash Anavarathan (@akashanav) August 2, 2022
While he struggled at times during 49ers' training camp, Lance reportedly finished off camp strong and established a strong connection with No. 2 wide receiver Brandon Aiyuk.
On the other hand, Aiyuk was one of the stars at 49ers' camp, which was ultra-competitive and even featured a few fights between the offense and defense.
NFL Betting Trends
Check out the latest betting trends for the Packers and 49ers below.
GB Packers Betting Trends
Over is 6-2 in Packers last 8 games overall
Packers are 1-4 ATS in their last 5 games as a favorite
Packers are 1-4 ATS in their last 5 games overall
SF 49ers Betting Trends
49ers are 5-0 ATS in their last 5 games as an underdog
49ers are 4-0 ATS in their last 4 home games
Under is 7-1 in 49ers last 8 games overall
---
RELATED: NFL Betting Picks
---
Packers vs 49ers Picks and Predictions
The Packers are expected to give Jordan Love plenty of reps in this game, which is part of the reason why they are favored to win on the road.
However, Love has yet to prove himself against NFL competition.
While it sounds like good news that he'll get the starting nod, Love will also be up against starters on the 49ers' defense, so don't expect anything to come easy for him, especially at the beginning of the game.
Quarterbacks tend to draw most of the attention during the preseason but it will be San Francisco's ability to run the football that will be the difference in this one.
With that being said, San Francisco will also have plenty of talent under center versus the Packers.
Starter Trey Lance will get some reps under center in the opener. Nate Sudfeld and Brock Purdy are expected to be the backups on Saturday. Meanwhile, Jimmy Garoppolo is also on the preseason depth chart, albeit the fourth-string QB.
Look for Lance to lead the 49ers to an early touchdown drive and the 49ers' defense to give Love fits early.
Take San Francisco (+120) to win the preseason opener on the moneyline at home against Green Bay on Saturday night.