Buff to bride: Personal training get Waynesboro Y member ready for her big day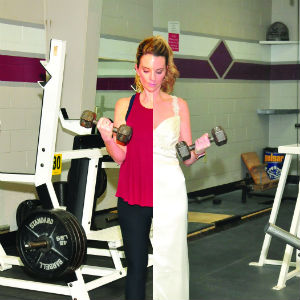 Brides-to-be have a lot on their minds in the months leading up to their wedding day. April Wright is checking one item off on her list with the help of the Waynesboro YMCA.
"I really just wanted to get toned, to look better, to feel better," said Wright, of Waynesboro, who is getting married in June, and in the walkup to the big day is working out weekly with Trish LaGrua, a personal trainer at the Waynesboro Y.
Wright started training with LaGrua last fall, and the relationship is such that LaGrua was among the first people that Wright texted when she was buying her wedding dress.
"As soon as I found my dress, other than my mom, my sister and my best friend, I sent Trish the pictures first. I said, I found my wedding dress, I know now what I need to work toward the next couple of months," Wright said.
LaGrua said she has focused Wright on strength training, starting out very light because Wright had not engaged in weight training before working with LaGrua.
"We have gradually been increasing her weights as well as the pace in which she does her workouts," LaGrua said. "She is now lifting more than when she started and is able to do more exercises during our one-hour session since her endurance has also improved. "
Wright said her experience training with LaGrua has been "awesome."
"When I work out by myself, I don't push myself as hard as she does," Wright said. "She gives you that extra motivation to know that you can do it. She is really encouraging. It's something that I don't have on my own. She walks me through the process so that even when I am by myself, I know that I am doing things right. I'm confident that I can do what I need to do when I'm by myself, and that I'm still working toward my goals."