Local
All aboard: Staunton's Virginia Scenic Railway offers sightseeing tours by train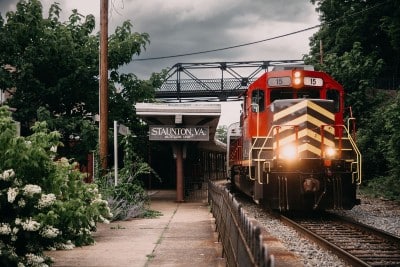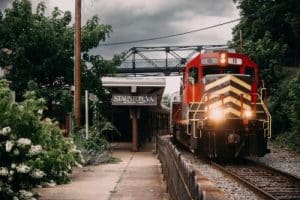 The only scenic railroad route in Virginia launched Aug. 4 in Staunton and is sold out through Thanksgiving.
The Virginia Scenic Railway is offered through the Buckingham Branch Railroad, which has rights to use tracks in the Shenandoah Valley. Tickets were sold out within a week of the railway's launch.
The railway knew it had a fan base of train and railroad enthusiasts in the Valley before the August launch, but did not anticipate this amount of interest to ride in 1940s and 1950s modernized passenger cars. Two rides are offered each day Thursdays through Sundays.
"People are excited to have regularly scheduled passenger excursions in Virginia for the first time in over 30 years," said Steve Powell, President of the Buckingham Branch Railroad. "They love the casual atmosphere of our modernized passenger cars. We have had great feedback on the train cars, routes, scenery and food. Both the lunch trains and dinner trains have been equally popular."
The Blue Ridge Flyer takes passengers on a three-hour scenic ride that leaves Staunton at 3:30 p.m., travels through Augusta County, Waynesboro and the Blue Ridge Tunnel to Ivy, then back to Staunton. The Alleghany Special travels from Staunton at 10:30 a.m. to Allegheny and back to Staunton. A meal is provided with each ride.
Passengers ride on tracks also in use by freight trains and Amtrack passenger trains.
The railway plans to expand in the new year with more passenger cars and one-hour trips.
"We thought that there would be a great interest in these rides, but the response has definitely exceeded our expectations. We are planning to expand the fleet to meet the demand," Powell said.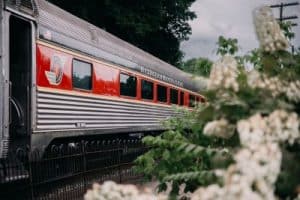 At the end of September, a third alternative will be offered: Santa trains, which the railway hopes will become a new tradition in the Queen City for families to travel and meet with Santa.
The Buckingham Branch Railroad, established in 1988, operates four divisions and 280 miles of track.