Sports
ACC hires business consultant, aiming to find new sources of sports revenue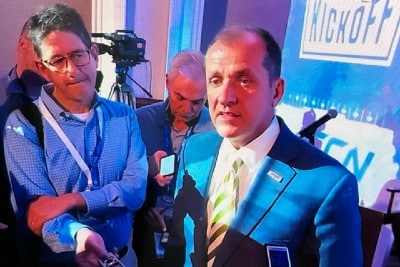 The ACC, aiming to solidify its status as the third wheel in the bilateral college sports landscape, has hired a business consulting firm led by a former ESPN sports marketing guru.
FishBait Solutions has been given a fancy title – chief revenue and business innovation consultant. The firm's CEO, Rob Temple, a former senior VP at ESPN and head of ESPN Sports Marketing, will assist the ACC in the areas of revenue generation and innovation opportunities, according to a release from the conference.
The FishBait team that will work with the ACC includes Rick Chryst, the former commissioner of the Mid-American Conference and a former ACC assistant commissioner.
The announcement comes against a backdrop that features the recent move by the Big Ten to poach USC and UCLA from the Pac-12, which preceded the pending blockbuster TV rights deal with Fox, CBS and NBC that is expected to net the conference more than $1 billion a year.
The ACC's current TV rights deal with ESPN, locked in through 2036, pays the conference about $240 million annually.
So, there's the challenge for FishBait, which has an impressive enough resume – its list of clients includes the College Football Playoff, ESPN Events, Bowl Season, the National Football Foundation, National Association of Collegiate Directors of Athletics and The Brandr Group.
"FishBait brings a wealth of experience and knowledge to this partnership – including a deep love and appreciation for the ACC and its 15 world-class institutions," ACC Commissioner Jim Phillips said. "The Fishbait team, led by Rob Temple, is both uniquely qualified and positioned to strategically assist our league in the areas of revenue and business innovation. They understand the corporate and collegiate landscape and how we can work together to provide significant opportunities that will benefit the ACC's nearly 10,000 student athletes and 27 sponsored sports."
"The through-line of my career, certainly including my years at ESPN, has been college sports, with a laser focus on unlocking long-term value and revenue to everyone's benefit," said Temple, a 1988 UNC alum. "As a company, we're thrilled to be working with Commissioner Phillips and the ACC. And as a lifelong ACC fan – this one's personal for me, and we couldn't be more excited for what's ahead."