Women's basketball: Virginia falls 77-62 to Miami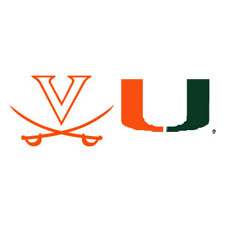 The Virginia women's basketball team (16-11, 9-5 ACC) fell 77-62 to Miami (19-8, 9-5 ACC) on Sunday (Feb. 18) at John Paul Jones Arena in Charlottesville, Va.
Miami outscored Virginia 24-13 in the first quarter and built up a 20-point lead with 3:47 remaining in the second period. The Cavaliers pulled to within nine in the first four minutes of the second half, but Miami built back up a 22-point lead in the first two minutes of the fourth period. The Cavaliers again rallied to pull within 10, 72-62, with 1:46 remaining in the game, but Miami held on for the victory.
Sophomore guard Dominique Toussaint (Staten Island, N.Y.) scored a team-high 18 points with nine rebounds and seven assists, also grabbing four steals. Freshman guard Brianna Tinsley (Madison, Va.) scored a season-high 13 points, going 4-of-4 from three-point range.
Two Hurricanes finished with double-doubles. Erykah Davenport scored 19 points with 14 rebounds while Emese Hof scored 13 points with 12 rebounds.
"It was a really tough game," said Virginia head coach Joanne Boyle. "It was not what we wanted and/or expected. We came out strong, but we made some crucial errors and got down. We just kind of lost ourselves and had a very scattered game overall. At this time of year, you want to play solid, strong basketball, so we need to find our way back to that consistency."
Fueled by a pair of baskets from Toussaint and a three-pointer from Tinsley, the Cavaliers started the game on a 9-2 run. Miami answered with back-to-back and-ones, including a foul shot adding to a three-pointer, that started a 20-1 run for the Hurricanes. The Cavaliers did not hit a field goal for nearly six minutes in the period, going 0-of-4 from the floor with seven turnovers in the span. Toussaint ended the drought by hitting a three-pointer with 46 seconds left in the period to make it a 22-13 game. Toussaint scored seven of Virginia's 13 points in the quarter.
The Cavaliers cut the deficit to 10 points, 28-18, at the 7:40 mark of the second quarter with a Tinsley three followed by a layup from sophomore forward Lisa Jablonowski (Ernster, Luxembourg), but Miami answered with an 11-1 run, pushing their advantage out to 39-19 with 3:47 remaining. A pair of Tinsley three-pointers in a thirty-second span sandwiched between a pair of layups from sophomore center Felicia Aiyeotan (Lagos, Nigeria) cut the deficit back to 10 with 1:40 remaining in the half. Davenport hit a jumper to temporarily halt the Cavalier run, but Aiyeotan and Toussaint converted back-to-back layups to stretch the UVA run to 14-2 and put their team within eight, 41-33, heading into the break at halftime.
Both teams started the third period flat, with Virginia making one of its first 10 field goal attempts. Miami built up a 14-point lead in the period, but the Cavaliers pulled to within 10, 53-42, on the three-pointer from redshirt senior J'Kyra Brown (Rocky Mount, N.C.) with just over a minute remaining. Miami scored seven points in the final 53 seconds to build up a 60-43 advantage heading into the final quarter.
Miami scored the first five points of the fourth quarter, but a three-pointer from Toussaint, a pair from sophomore guard Jocelyn Willoughby (East Orange, N.J.) and a layup from Brown made is a 69-54 deficit with 5:03 remaining. Brown ended nearly two full scoreless minutes for both teams by converting an and-one to make it 69-57 with just over three minutes remaining in the quarter. Davenport scored a third-chance basket for the Hurricanes on their next possession, pushing the lead back out to 71-57. Virginia closed out the game going 0-fo-5 from the field. Miami did not take another shot in the game, but made six free throws in the final two minutes to seal the victory.
Virginia shot 34.4 percent (21-of-61) from the field. Miami shot 39.1 percent (25-of-64) from the field and were 20-of-28 (71.4 percent) from the free throw line. The Hurricanes held a 49-38 advantage in rebounding. Miami scored 17 points off turnovers, with 14 of those coming in the first half. The Hurricanes also had 15 second-chance points to three from UVA.
With the loss, Virginia falls into a three-way tie for fifth place in the ACC with Duke and Miami at 9-5.
Virginia plays a pair of road games next week, heading to No. 4 Louisville on Thursday, Feb. 22 followed by the regular-season finale on Sunday, Feb. 25 at Wake Forest.