Women's basketball: Virginia downs North Carolina, 82-70, remains in first-place tie in ACC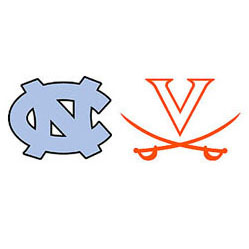 The Virginia women's basketball team (14-7, 7-1 ACC) picked up an 82-70 victory over North Carolina (14-7, 4-4 ACC) on Thursday (Jan. 25) at John Paul Jones Arena in Charlottesville, Va.
The Cavaliers scored four seconds into the game and led the rest of the way, using a 14-2 run in the second quarter to take control of the game. The Cavaliers built up a 21-point lead in the third quarter, but the Tar Heels rallied in the fourth, going on a 9-0 run to cut the deficit to eight points, 78-70, with 1:20 remaining. Virginia answered by hitting a pair of field goals down the stretch to close out the game.
Virginia had five players finish the game in double figures. Senior guard Aliyah Huland El (Randolph, N.J.) scored a season-high 19 points, 12 of which came in the first quarter. Freshman guard Brianna Tinsley (Madison, Va.) scored a season-high 10 points. Sophomore guard Dominique Toussaint (Staten Island, N.Y.) scored 13 points with five assists and four rebounds.
Janelle Bailey led North Carolina, scoring 21 points with seven rebounds. Paris Kea scored 18 points.
The Cavaliers remain in a three-way tie for first place in the ACC with Louisville and Notre Dame with Florida State a half-game back at 6-1. Virginia's 7-1 start to conference play is its best since starting the 1999-00 season at 9-1 in ACC games.
"I am very excited about the win," said Virginia head coach Joanne Boyle. "I'm proud of the girls tonight. If you look at the stat sheet, you see five people in double figures and 18 assists. Sharing that basketball has been great chemistry for us. It is nice to be at the half-way mark [of conference play] and look back and see what we've done and what's left to do. There are still things to clean up, obviously, but it's been a good run for us so far."
The Cavaliers raced out to a 9-2 lead and built up a 19-6 advantage with five-straight points from Huland El. Virginia led 25-13 before the Tar Heels chipped away with a three followed by a pair of free throws. Sophomore guard Jocelyn Willoughby (East Orange, N.J.) made a layup in the final seconds of the quarter to give UVA a 27-18 lead.
The Tar Heels, who opened the game making just two of their first 11 shot attempts, started the second quarter hot, scoring the first five points of the period to make it a four-point game, 27-23, but Tinsley hit a three-pointer, the start of an 10-0 run for the Cavaliers over the span of 70 seconds. The Cavaliers made five-straight shots, extending the streak out to a 14-2 run to take a 41-25 lead. After the Tar Heels again strung together five-straight points, Toussaint answered with a three from the top of the key. Brown closed out the period with a three of her own to send the Cavaliers into the break with a 47-32 lead.
The Cavaliers came out of the break firing, hitting seven of their first nine shots. Five-straight points from senior forward Lauren Moses (Mount Holly, N.J.) gave Virginia a 66-45 lead with 3:34 remaining in the quarter. Jamie Cherry hit a jumper for the Tar Heels in the final seconds of the quarter to get the deficit back to under 20, 69-50.
The Tar Heels continued chipping away in the fourth quarter, starting the period on a 9-2 run, but a three from Toussaint gave the Cavaliers a momentum shift and a 74-59 lead. Carolina continued to battled, scoring nine points in a 1:29 span to cut the UVA lead to single digits, 78-70, but Huland El made back-to-back layups to secure the victory.
Virginia shot 48.5 percent overall (32-of-66) and was 9-of-22 (40.9 percent) from three-point range. North Carolina shot 42.4 percent (28-of-66) and was 5-of-16 (31.3 percent) in its three-point shooting. Virginia held a 38-34 edge in rebounding.
The Cavaliers will finish the week with a game on Sunday, January 28 at Georgia Tech (13-7, 2-5 ACC) at 1 p.m. The Cavaliers will be back home next Thursday, February 1, hosting No. 4 Louisville (20-1, 6-1 ACC) at 7 p.m. at John Paul Jones Arena.
Single-game ticket prices for all home games are $10 for Reserved seating, $8 for adult General Admission and $6 for youth (18 & under), senior (60 & over) and UVA faculty/staff General Admission. Fans may purchase home game tickets through the Virginia Athletics Ticket Office online at VirginiaSports.com, by phone and in person. The Virginia Athletics Ticket Office is located in Bryant Hall at Scott Stadium and open Monday through Friday from 9 a.m. until 5 p.m. Telephone purchases can be made by calling 1-800-542-UVA1 (8821) or locally at 434-924-UVA1 (8821).