Warner sponsors resolution to honor Buffalo Soldiers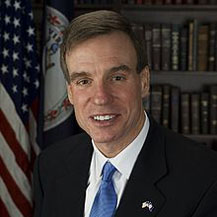 In celebration of the achievements and contributions that African-Americans have made as part of Black History Month, U.S. Sen. Mark Warner cosponsored a bipartisan resolution to honor the "Buffalo Soldiers," African-American soldiers who served in the United States Army following the Civil War and made invaluable contributions to the fabric of our nation's history.
Following the conclusion of the Civil War, the United States Army allowed African-Americans to serve in segregated units. Two of these units, the 9th and 10th Horse Cavalry, produced the "Buffalo Soldiers." The soldiers received their nickname from Native Americans as a testament to their fearlessness in battle. In spite of being allocated inadequate resources and facing prejudice, the Buffalo Soldiers earned more Congressional Medals of Honor and had the lowest desertion rate of any unit in the Army. Five of those Medal of Honor recipients hailed from Virginia – Isaiah Mays (Carters Bridge, Va), Fitz Lee (Dinwiddie County, Va), Henry Johnson (Boydton, Va), Clinton Greaves (Madison County, Va), and Benjamin Brown (Spotsylvania County, Va).
"These brave Americans were among the first to answer the call to service at a time when African-Americans frankly weren't treated as full members of our society," said Warner. "We owe a debt of gratitude to the Buffalo Soldiers, and this resolution is an important way to honor their service to the United States."
The resolution was introduced by Sen. Kamala Harris (D-CA) and Sen. Roger Wicker (R-MS) and is cosponsored by U.S. Sens. Chris Van Hollen (D-MD), Bob Menendez (D-NJ), Chris Coons (D-DE), Thom Tillis (R-NC), Tammy Baldwin (D-WI), Sheldon Whitehouse (D-RI), Richard Blumenthal (D-CT), Cory Booker (D-NJ), Tammy Duckworth (D-IL), Dianne Feinstein (D-CA), Sherrod Brown (D-OH), Kirsten Gillibrand (D-NY), Ben Cardin (D-MD), Tom Cotton (R-AR), Ron Wyden (D-OR), Tim Scott (R-SC), Mazie Hirono (D-HI), Claire McCaskill (D-MO), Tom Carper (D-DE), Bill Nelson (D-FL), and Bernie Sanders (I-VT).
The text of the Senate resolution follows and can also be viewed here.