Sports
UVA football players rally behind embattled head coach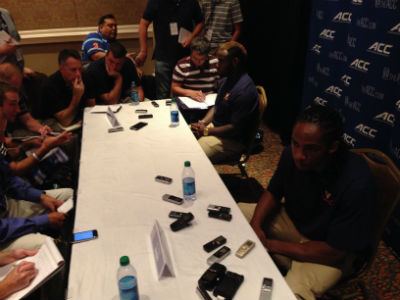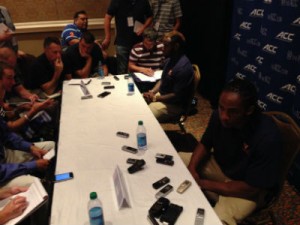 Mike London doesn't have the support of a large segment of the UVA football fan base. But he has the solid support of the young men he brought in to represent the orange and blue on Saturdays.
"Coach London is a great guy. I look up to him personally. I want to win to help him out. I'm going to do anything in my will to help him win," said Kevin Parks, the ACC's leading returning rusher from 2013, who admits that it's hard to ignore the loud calls from the UVA fanbase for London's head.
"I'd be lying to you if I said we didn't hear the stuff being said about Coach London. But Coach London didn't lose the games. The players lost the games. We went 2-10. Our job is to get back to winning and help Coach London out. Do the little things right, and those things will add up and help us win," Parks said.
London told members of the news media at the 2014 ACC Football Kickoff last week that he didn't want players to be thinking about his job status or the status of the program in general, fearing that it would distract from the mission at hand, which is turning things around against one of the tougher schedules in the nation, with games against preseason Top 10 teams Florida State and UCLA just the tip of the iceberg.
"For us to play the kind of schedule that we're playing this year, it says a lot about him," said senior safety Anthony Harris. "If he wanted to go out there and just get some wins, he could have scheduled less difficult competition. I think it's very important to him that he sticks to a hard schedule, and that the players get behind him, which is what we've been doing."
Harris wants to win for his coach so that London can continue to have the positive contributions to future UVA players' personal development that he has on Harris and his teammates.
"He's all about making us better players and better athletes," said Harris, in a sentiment echoed by Parks.
"He's a great man. You look up to him," Parks said of London. "He's always saying the right thing. He preaches what he teaches. Guys look up to him. He's a great father figure to those guys on the team that didn't have fathers growing up. He's just a great guy."
– Column by Chris Graham