UVA football coach Bronco Mendenhall talks Miami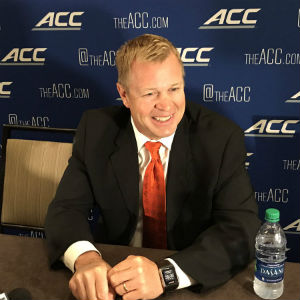 COACH MENDENHALL: Seems like a long time since we played football. Doesn't take long when the weeks are so action packed and full of pressure and stress, and the number of things that happen, and then you have a glimpse of just the outside world for a little bit and time slows down and almost feels like a new season.
So first practice today back at it after a long weekend, and the preparation needed to take on another ACC opponent. Certainly glad to be back home, and hopefully we'll be able to apply a number of things we targeted during the bye week.
Our hope for the bye week was to restore some health to our team, knowing that won't ever be completely possible. But to restore some health, to assess our personnel and our schemes to see where and how and who is most effective, and then certainly we got some recruiting done as well.
So from that standpoint I'm optimistic. I'm comfortable we got those things done.
In terms of our how it affected our play and where that stands, I don't think we'll know until we play another game. I think the mindset of the players is stronger and they're intent to practice and prepare well is strong.
I'll take questions.
Q. How much does your strategy for using the bye week kind of depend on where it falls in the calendar?
COACH MENDENHALL: Significantly. If you have to have an ideal placement, this is about where it is. I love about the halfway mark. In talking with Ohio's coach, they're bye came after week one. He was talking about what a challenge that was.
So you always make the best of it wherever it falls, but if I had a choice, yeah, right before or right about the midway point is I think ideal based on roster, based on personnel and then sometimes based on opponents coming up. You know, that all plays into it.
But it's as good as I could have hoped for.
Q. Is self-scouting a big part of what you do in a bye week?
COACH MENDENHALL: It is. Our procedure, like most in college football now – I guess I'm speaking for most – it's ongoing and up-to-date. So after every game, every call is analyzed in terms of production, and those databases are built upon every single week.
All the bye week really does is allow you to step back a little bit, and then possibly when you have an idea or two, you can kind of search the country and search the NFL and others that might have similar personnel facing similar challenges to maybe research. That's the part that's hard in a game week, is to do extra research to add to your current knowledge base.
So it's really not the self-scout; that part is fairly easy to keep current. But trying to solve problems that maybe are new or unique or different to your particular roster, you try to see, does anyone else have something similar and what are they doing. That's probably where the self-scout led to in the bye week that maybe you don't have time to do in a regular week.
Q. We talked a lot before the season about all the really talented offensive players you guys have and how Bryce's [Perkins] ability kind of opens things up. How well do you guys think you've balanced the running and the passing and the utilizing the decoys and all that stuff to kind of get the most out of the offense?
COACH MENDENHALL: Yeah, I think it's been week to week. I think there have been glimpses and moments and games where we've done a nice job, and there have been glimpses and moments and games where we haven't.
I think we're learning from those games. Certainly the two teams I think are strong opponents — again, much like rankings, it's hard to tell anything about week seven or eight and how good anyone is — but in terms of NC State and in terms of Indiana, I think those two opponents will probably prove to be good opponents and good teams.
So those teams our formula didn't hold, nor was it the same for our other three games. So we're now in the process of recalibrating, trying to assess after five games exactly where we are and projecting the talent level versus other teams and then, okay, which path does that have us take.
We're becoming clearer with that, but I can't say we've done a great job with consistency. Through probably three games yes, and two games no.
Q. Did you get a chance to watch any of Miami's game against Florida State, and what are your impressions of the redshirt freshman, [N'Kosi] Perry, and their two runningbacks?
COACH MENDENHALL: Yeah, so my wife loves football, so she had us watching the game. I watched a couple series because I get to watch them on film now straight for more than what I would like.
But the quarterback seems to provide a spark and an ability to move the ball a little bit with his legs. It appears that they're opportunistic and the energy and the turnovers that their defense creates their offense then is opportunistic and leverages that. Those parts have to be mentioned collectively.
But when you have a young player that's earned the starting role and is playing good football for a ranked opponent, the future looks bright. So I think it might have been — I'm guessing the competition might have been close enough to where the ability to run a little bit more and then investment more the future, those two things may have contributed to the spark he's giving him.
Q. Pretty huge passes late in that game. What does that say about his ability to do that as a redshirt freshman?
COACH MENDENHALL: Just that. Yeah, ACC football is a highly competitive league and brand, and now you put Miami and Florida State in rivalry game, and looks like he was poised and managed it effectively.
I think this speaks a lot. Maybe not even the ACC, but Miami-Florida State. That speaks to maybe his poise.
Q. Does last year's game down in Miami make you any more confident or sadden you that it didn't go your way.
COACH MENDENHALL: Yeah, both. At this point when I look at every game from here through the end of our season, there is certainly a chance that all those games are winnable. Any of them independently and all of them collectively. Conversely, you can flip it the other way.
And so when you look at the game from a year ago, we played well enough long enough to make it really interesting, but not quite well enough and long and consistent enough to hold on.
Q. Does it make players any more confident?
COACH MENDENHALL: So that's kind of where I was headed. They believe that they're capable and confident playing with any opponent, including Miami. What they also know is they have to build their capability and consistency to finish. That's the task, is to play as well through the majority of the game and then add the other component to close it out.
The short answer is yes, they're confident, but that isn't specific it Miami. That's really relevant to any team we play from here on out.
Q. Since I know you're involved more on both sides of the ball now, I wanted to ask you about their defensive line and [Gerald] Willis, the way he plays inside, how has that opened things up for their two ends who seem to also be very effective?
COACH MENDENHALL: Yeah, well any time a three-technique or any time a one-technique requires the double, it just ensures one-on-one outside, unless you chip with the runningbacks. There is very little time to throw the ball. If you're going to protect conventionally, the ball better be gone quickly.
So their edge rushers I think are very good. If you choose to leave the inside rusher or rushers by themselves, then you can pay there as well. So I think that you have to acknowledge that part of it and know that that's what's generating, in my mind, the turnovers and the change of possessions, which then allows their offense which is opportunistic to capitalize.
And then there is the momentum factor, of once they, Miami, they feed off that and they become even more skilled and more confident and more assertive once there is a sudden change.
That then, the momentum that creates, much like the Florida State game, there is just a couple plays and back to back and the game became different.
Q. As you look at that front, how so you feel about your offensive line, the evolution, and any changes during the off week?
COACH MENDENHALL: Really no changes, and we are a work in progress. Shows up on film and shows up every week. It's still the position that we're not deep enough and building as fast as we can. We're still considering grad transfers and all other possibilities to build that unit. It's the foundation of our offense, so it's still at risk. It's still a work in proceeding. It's not stable. It's not deep. It's inconsistent.
But there are glimpses and there are signs that we're playing at a higher level there that than we have been. But it's slow and steady and methodical in the improvement we're making.
Q. You said heading into your bye week part of your analysis would be to throw out some plays you don't feel have been effective. Were there many? Is there a strong debate about those?
COACH MENDENHALL: No. So "many" is relative. Sometimes plays are tied to concepts, and so I would say you could throw out a concept and that's one thing. The number of plays tied to it could be a handful or more.
Really we're identifying concepts which tie to personnel and tie to application. Some just aren't going to fit. That eliminates a higher volume of plays. In one case concepts are added. They're projections, but hopefully that will work out in our favor.
Really little to no debate because of the numbers. I'm a statistically driven and numbers oriented coach when it comes to pressure. I love the big picture and thinking about the broader perspective, but under pressure I want to know the numbers, and then I frame that for the decision.
Some things have to go because they're not working. Maybe it would be like a relationship where you try as hard as you can and it's just not going to work. It's time to break up. Kind of like that. Sometimes the harder you've worked at it the harder it is to let it go. Coach or coaches sometimes get tied to a concept. They might have worked elsewhere and they're working like crazy to make it go and it hasn't yielded. My job then is to say enough already.
Kind of like a parent.
Q. Coach, according to a story by my colleague, there is a big meeting Friday to sort of launch a fundraising effort, campaign, and would you mind talking about why you feel — you've talked about it before. One of the first things you said when you got here was you need a new building. New building, new fields, what this would mean to the program. Second part of the question is: Do you feel like your facilities have cost you recruits to, say, Virginia Tech or Clemson or other places?
COACH MENDENHALL: I'll start in reverse order. The easy answer is yes, certainly our facilities have cost us. That's an easy one.
Going back to the first part in terms of what we — why a new building is important, more so than anything else, to make a clear and simple statement that Virginia football matters. It's not an afterthought. It's a priority and we intend to be excellent.
Like anything else on grounds, we want to be exceptional. That alone, the building and the resources to generate that simple statement brings or highlights all the work that's going on behind the scenes.
Until those two things are aligned it's hard to truly have the tipping point that you never have to look back at. It does not mean that it can't happen without it. However, when you consider not beating our rival for 14 years or not being back to back bowl games for 14 years, none of that is accidental. It's not an accident. It's been planned for. The choices have been aligned for. It's time to fix it.
For all those that want great football and all the benefits that come from that for the university, for Charlottesville, and I think the branding alone, there are so many benefits that have been well documented. Yeah, for those that grasp that, either from an alumni perspective, a business perspective, or a pride competitive, it can be planned for. It can be designed for. The results will show when that happens.
I'm really excited about the possibilities. I think the master plan has been exceptionally well thought out. Carla has done a phenomenal job with vision and execution to get it to this point. And now the matter-of-fact analysis is the traction and the support necessary to pull it off.
Along the way, right, my job is to continue having football trend upwards and build momentum to make it easier for investors to say, 'Okay, this is a good investment'.
Good is a different topic than necessary. It's absolutely necessary if the University of Virginia wants exceptional football and all the benefits that come from that. To reflect it does matter and we want exceptional in all that we do. On grounds, in the classroom, on the sports fields, et cetera. I would say the same, not just for football, but for all the other sports.
I would go as far as to say the well-being of the athletic department is tied to football's success.
Q. You don't have too many changes on your depth chart. One is De'Vante Cross moving from wide receiver to safety. We talked in the preseason about how he finally had a position and he could finally focus. What necessitated that move?
COACH MENDENHALL: Yeah, Chris Moore will be out for the season, and Brenton Nelson going down in our game against NC State, those are two players that — it's completely reflective of our roster. Just when I say never, and I'm learning my lesson, that we can put a player there and leave him, it's hard to anticipate when you lose two players in the two deep either in the secondary or at linebacker or offensive line or where ever.
Yeah, it's kind of like getting a call on the red phone where you're close to being out of players. [Germane] Crowell was diagnosed with a concussion, so that was a third. The two deep just went boom, boom, boom. Okay, now what? Luckily De'Vante has had some experience, and he's been training there since the middle of last week.
Q. Back to the notion of offensive balance. Olamide [Zaccheaus] and Hasise [Dubois] have almost two thirds of your receptions. How much of that is maybe Bryce being too comfortable with them or Joe [Reed] and Evan [Butts] and guys like that not doing enough to make him comfortable with them?
COACH MENDENHALL: Yeah, it's being driven by production, meaning that Olamide and Hasise keep making play after play after play. So Bryce and Olamide and Hasise are driving what's happening in terms of production.
Tavares Kelly is escalating, and our run game, including Jordan Ellis, versus the better teams hasn't been as effective.
And so we certainly, if you consider Hasise and Olamide and Bryce, I like that a lot. I would love to have another receiver and get our running game going as well and get Evan Butts cranked up again.
So it's more spread, but the reality is the production is disproportionate right now, and hard to consider throwing it or moving the ball in another way when the yield is so tilted. We're anticipating and pushing and hoping for others to be able to take a share of that. Hasn't happened at the speed we hoped to this point, other than Tavares, who is starting to make a push.
Q. You have made a point of reaching out to football alumni and inviting them to be part of the program. Several of them live here in town, including Ahmad Hawkins. You did a video with him. He's involved with the program. What's it been like having him around the way he is?
COACH MENDENHALL: Just a positive presence. You know, I love being around positive, optimistic people that have a mindset of achievement, with a moral structure of just kindness and decency.
And, man, when that happens and they've been part of this program, it's just another good example for my coaches, our players. I probably shared with you that I won't hire anyone that I don't like. I guess I haven't shared that. Yeah, so they have to be trustworthy and they have to be really good at what they do.
But what a drag it is just to show up at work and be with people you don't like. So I don't do that. When you now consider former players who also fit in that category, just one other positive influence and another great reason to come to work and be around hopefully like minded and can-do people that are unified in the challenge.
Q. You touched on this a little bit talking about the safety situation. You said you want to get as healthy as you could over the bye week. Where do Brenton and Germane Crowell and some other guys stand now health-wise?
COACH MENDENHALL: I wish I could say it has changed a lot. It really hasn't. What it really did is probably prevent anyone else getting hurt because we didn't play. So rather than here is this health that now has been built, really it was just who else didn't get hurt because we weren't in a competitive situation on Saturday.
It'll play out over time, but I'm not sure what the other rosters look like, and nor does it really matter. So the job now is to manage the personnel that you have the best possible way you can down the home stretch. That's a seven-week stretch, and that's what we plan to do.
Q. Can you talk about your assessment of Miami's receivers on the outside, particularly [Lawrence] Cager? You've talked about before for the defensive backs here they're in position execution-wise, but you want them to make plays. Where would you assess they are in that process for this matchup?
COACH MENDENHALL: It's relative to the opponent. Again, the better the opponent, the fewer plays we're making; the lesser the opponent, the more plays we're making. The task is the better teams and players we need to make more critical plays in one-on-one situations.
It's the same. Like when you flip on college football, the number of back shoulder throws and fades just is mind boggling. The RPOs, because of the linemen down field rule, it's all tied together. College football has changed because of the linemen down field, which is the RPO, which then ties the safeties and then the receiver is by himself for the fades and back shoulder throws at a higher level.
I don't think we're the only ones where it's apparent. They're called 50/50 balls for a reason. If you win 51 percent, you're actually doing a pretty good job. I would say we're more 49-ish in that category.
So, yeah, we need to swing a few more plays and a few more percentage points against the better teams and better receivers.
Q. Any update on Malcolm Cook?
COACH MENDENHALL: He's practicing. Based on what I saw today, still a significant way to go. He'll be listed I'm sure as — man, I forget all the different categories — probably or likely. But he's going to have to look different than he did today.
Q. As an outsider, I thought maybe the open date would be a chance for Dylan Thompson to make up that knowledge and earn him a spot on the depth chart. Any good news?
COACH MENDENHALL: No, actually bad news. He got a concussion in practice last week.
Q. Brenton is listed on the two deep. Chris Moore is out for the season. What can you say about Brenton's availability for this week?
COACH MENDENHALL: We think he'll be available is what I've been told. Any time you're dealing with concussions, though, it's hard to know. Again, what I love is the protocol because it just is — it protects the player and makes sure that he's safe and ready before he comes back.
So we're all relying on the protocol, which I completely support.
Q. Touching back on those 50/50 balls, is there a technique, a drill in practice, or is it just instinctive?
COACH MENDENHALL: There is all kinds of technique and drills in practice, and tons of emphasis that has been placed. A lot of times if you — it's very simple. Maybe as little kids if you ever played Flies Up or 500 and you put two young kids together and they both see the ball; sometimes one is 5'11" and the other one is 5'5, and they jump and the 5'11" guy sometimes catches it more. Unless the 5'5″ guy is really kind of crafty and gritty and somehow just battles his way in there.
Sometimes it's as simple as a matchup. Some receivers are always open just by their height. We like our corners a lot. We like our safeties a lot. Statistically I think they're effective. All that's happened, again, is the game is changing, so it's more apparent in college football.
Again, you can flip on any game and see about the same thing happening. What it really leads back to is personnel and the size of players that you would like to have at corner. Most are smaller and most receivers are taller and see the ball sooner and longer than the defensive back sees the ball. Those two things are advantages.
Again, if the RPOs weren't in effect and the lineman couldn't be down field, then it would easier to have the safeties there. That change as an offensive coach — however that got passed I'm not certain. All you're seeing is the one of the by-products of that rule.
Q. 3-2 coming off a road loss and a bye week, I think you're arrival here made you aware you needed to be far more in tune with the psyche of this team. What's your assessment of how things went, especially last week when there probably didn't need to be as much focus when you have a game on Saturday, just kind of where the confidence is, the focus is, and that kind of thing.
COACH MENDENHALL: Our focus is strong. Our confidence is good. Our team is angry. Our team now is angry when they lose. They're not dejected or down. They're angry. There were plays left on the field they think they could have made. They know a handful of those, like any game, possibly would give them a different outcome.
That's becoming clearer and clearer to them. I think they're determined and there is resolve is what I sense from them.
Q. You've been around a lot of special players in your career. Talk about Olamide. Shout out to the notes here from the media relations staff. Olamide the nation's only active player with 2000+ receiving yards and 450 rushing yards in a career. He's probably going to surpass reception totals here. What's it like coaching him and your appreciation for what he brings to the team?
COACH MENDENHALL: You know, I think I'll frame my comments in a way that's probably not expected or desired, but his improvement from when I arrived, my initial assessment of Olamide and of consistency, of production, to what I see today, so the maturity, consistency, and production without the drama, the way highs and the way lows, he just is maturing into an outstanding young man, football player, who is consistent and reliable and dependable.
Those things, yeah, that's hard for anyone to reach, and that's who he's becoming. He has the physical skills. He is just able now to produce week in, week out. More importantly, practice in and practice out. That's how he's earned my respect.
Q. Inside linebacker: How comfortable are you with Zane [Zandier] and Rob Schnyder moving forward?
COACH MENDENHALL: Yeah, I'm not. There is just not enough players. So I love those two. Two is not enough. We're continuing to look and assess who else. We've moved TC Harrison, a first year, to get some work in that position as well.
But, yeah, that position is one play away from us being really thin. I'm completely comfortable with Rob and Zane. I'm not comfortable with the depth of the position, to make it more clear.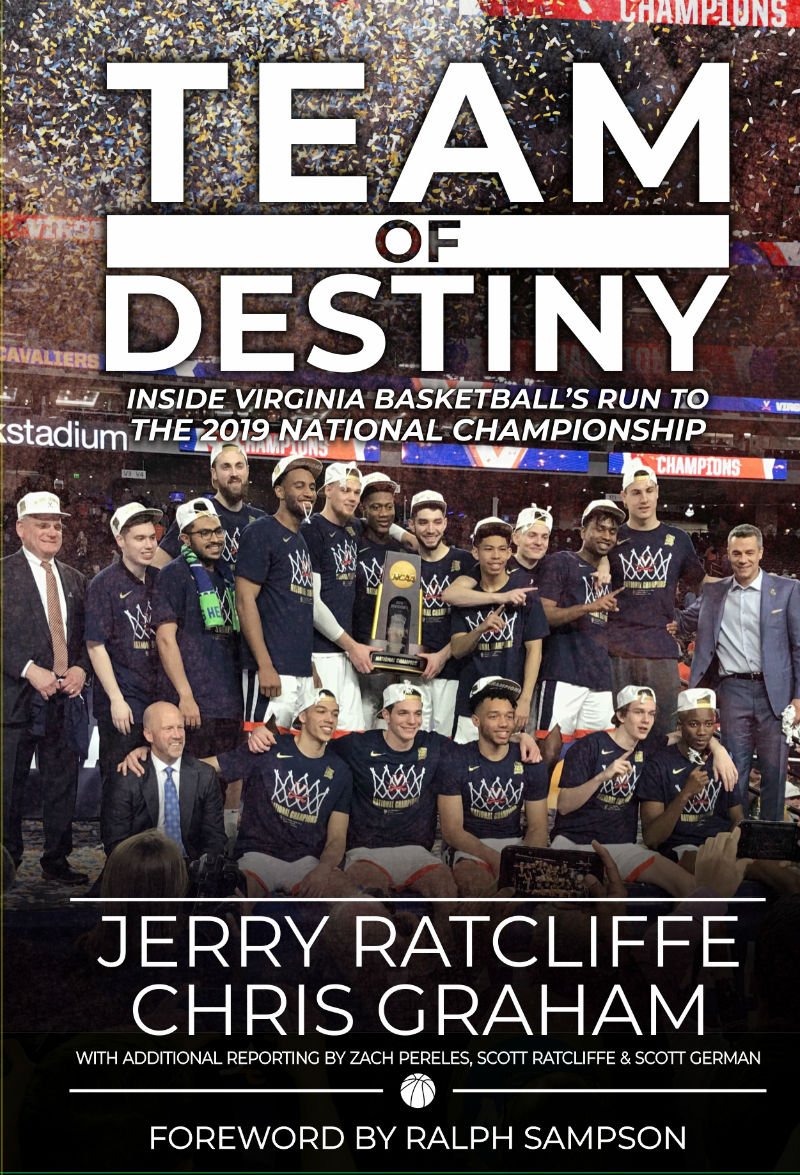 Team of Destiny: Inside Virginia Basketball's Run to the 2019 National Championship, by Jerry Ratcliffe and Chris Graham, is available for $25.
The book, with additional reporting by Zach Pereles, Scott Ratcliffe and Scott German, will take you from the aftermath of the stunning first-round loss to UMBC in 2018, and how coach Tony Bennett and his team used that loss as the source of strength, through to the ACC regular-season championship, the run to the Final Four, and the thrilling overtime win over Texas Tech to win the 2019 national title, the first in school history.

Related Content
Shop Google