Three-run fifth keys Salem Red Sox win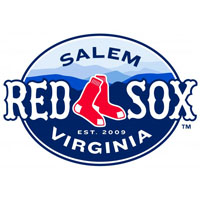 The Salem Red Sox won their fourth game in a row with a 5-4 come-from-behind victory against the Carolina Mudcats Monday night at LewisGale Field.
The Mudcats (45-75, 16-35) jumped on Red Sox starter Trey Ball in the first inning, utilizing back-to-back RBI singles from Isaias Tejeda and Luis Valenzuela to take an early 2-0 lead.
Salem (72-47, 28-21) evened the ledger at two in the bottom of the third against Carolina starting pitcher Ryan Clark when Jayce Ray and Deiner Lopez scored on a Rafael Devers opposite-field single. The Red Sox third baseman finished 1-for-3 with three RBIs. Devers has now hit safely in 19 straight games at Salem Memorial Ballpark.
Carolina regained the lead against Ball (6-5) in the top of the fourth inning, when Omar Obregon drew a bases-loaded walk. The Salem lefty didn't allow anything more, completing 5.0 innings, allowing three runs on five hits, walking five and striking out two.
Ball exited trailing 3-2, but got the win because the Red Sox picked him up with three runs in the bottom of the fifth against Clark (1-12). Back-to-back RBI singles from Joseph Monge and Danny Mars scored Jose Sermo and Lopez, while a sacrifice fly by Devers plated Monge to hand the Sox a 5-3 advantage.
Jake Cosart was the first man out of the bullpen for Salem, and was thoroughly dominating – striking out five in 2.0 perfect innings against Carolina. Cosart has worked 7.2 scoreless innings while allowing only one hit in three outings with the Red Sox this season, striking out 15 opponents.
Simon Mercedes pitched a perfect eight, but ran into trouble in the ninth inning. After a run crossed on an Obregon RBI single, Mercedes coaxed a 3-6-1 double play from Travis Demeritte to end the game. The righthander earned his fifth save of the year in the process.
With the win, Salem tied a Red Sox-era record with its seventh straight win at home. The longest home winning streak in franchise history is 11 games, from May 26-June 15, 2000. The contest also marked Salem's 29th one-run win of the season, the most of any team in the Carolina League.
The Red Sox continue the series with the Mudcats Tuesday night at LewisGale Field. First pitch is scheduled for 7:05 pm. Salem sends Anyelo Leclerc (2-2, 5.03) to the mound, while Carolina counters with Enderson Franco (5-10, 4.83). For tickets and more information, call (540) 389-3333 or slide to www.salemsox.com/tickets.
Comments