Top News
Third annual Cider Week Virginia celebrates craft ciders from across the Commonwealth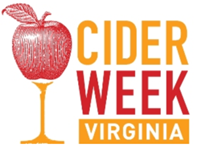 From Nov. 14-23, the 2014 Cider Week Virginia festival will continue the tradition of sharing delicious, locally fermented, artisanal ciders from across the Commonwealth. This third annual celebration of craft cider brings together eight Virginia cideries for a bevy of delicious tastings, workshops and other events sure to engage, entertain and educate participants.
"Cider Week Virginia is a great opportunity to showcase this fast growing industry in our state," said Cider Week Spokesperson Diane Flynt. "Similar to the wonderful wines of Virginia, fine hard cider is made from well-grown fruit, fermented carefully to create a balanced and flavorful beverage. Cider Week Virginia provides many opportunities to sample the best of Virginia's artisanal cider, carefully crafted from Virginia apples."
Flynt, who is the owner of Foggy Ridge Cider in Dugspur, will be joined by nine other popular Virginia cideries during the week-long event. Those include Albemarle Ciderworks in North Garden, Bold Rock Cider in Nellysford, Castle Hill Cider in Free Union, Blue Bee Cider in Richmond, Potter's Craft Cider in Free Union, Old Hill Cider in Timberville, Winchester Ciderworks in Winchester, Cobbler Mountain Cellars & Cider in Delaplane and Corcoran Vineyards & Cider in Waterford.
In 2012, the Governor's Office made an important Cider Week Virginia Proclamation, making the state the first to have an officially proclaimed "Cider Week." This year continues the tradition, bringing wider recognition to a historic craft that increasingly fosters economic growth and tourism for the state.
"Cider is one of the fastest growing segments of the alcohol beverage industry, both nationally and in Virginia. Currently, Virginia has ten cideries in the state and is a recognized leader in the national artisan cider movement," said Virginia Wine Board Marketing Office Director Annette Boyd. "We have seen a huge increase in interest in Virginia ciders from media, trade and consumers. It's a new segment in the "Drink Local" category and we are happy to have ciders as part of the Virginia beverage family."
Virginia is currently the sixth-largest apple-producing state by acreage in the country, and cider is a rich part of the state's heritage. Cider had its first heyday in 18th and 19th century Virginia, when it was enjoyed by some of our most notable residents, including Thomas Jefferson, John Adams and George Washington. Cider production came to a halt with Prohibition, but today's Virginia cidermakers are reviving tradition by growing the original cider apple varieties and crafting hard cider with modern fermentation methods.
Enjoying a wonderful reputation for quality and versatility in pairings, craft cider is once again gaining popularity. "The market is growing by leaps and bounds, here in Virginia and elsewhere, and with this growth comes the diversity of styles and offerings that has made craft beer such a vibrant and constantly renewing industry," said Tim Edmond, co-owner of Potter's Craft Cider.
Craft lovers can enjoy a packed 2014 Cider Week Virginia, including popular events such as the "Richmond Cider Celebration" from 11 a.m. to 4 p.m. on Saturday, November 15, as well as the "Hill & Holler Cider Dinner from 5 p.m. to 9 p.m. on Sunday, November 16. Throughout the week, there will be tastings, workshops, tours and other offerings at restaurants and cideries across Virginia. For the full schedule of events, tickets and additional information, visit www.ciderweekva.com.