Salem Red Sox walk off, top Blue Rocks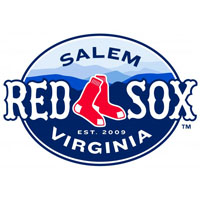 The Salem Red Sox completed a three-game sweep of the Wilmington Blue Rocks with a thrilling 4-3 walk-off victory in 11 innings Sunday evening at LewisGale Field. The Red Sox have now won their last six contests at home.
In the bottom of the 11th inning, Deiner Lopez lined an 0-1 offering from Todd Eaton into left field for a base hit to score Mike Meyers from third base with the winning run.
Wilmington (43-76, 16-34) had trouble solving Salem starting pitcher Matt Kent until the top of the fourth, when they would scratch across a pair of runs on a Robert Pehl double and run-scoring groundout from Chad Johnson.
The Red Sox (71-47, 28-21) eventually broke through against Glenn Sparkman in the bottom of the fifth. Joseph Monge singled to score Jordan Betts, and Lopez came home on a Danny Mars groundout to tie the game at two.
Kent yielded an unearned tally to the Blue Rocks in the top of the seventh on an Austin Bailey sacrifice fly as Wilmington took a 3-2 advantage. The lefty pitched very well, notching his 10th quality start of the season and tying a career-high with 8.0 innings. For the second time in his last three starts, Kent did not issue a walk.
Against Derek Gordon in the bottom of the ninth inning, Jose Sermo crushed a first-pitch solo home run off the video board in right-center to tie the game at three and send the game into extra innings.
Yankory Pimentel (9-6) replaced Kent in the ninth, and was terrific out of the bullpen for the Red Sox, allowing only two hits in 3.0 scoreless frames.
In the bottom of the 11th against Eaton (0-2), Meyers reached on an infield single, stole second base and advanced to third on a wild pitch with one out. Lopez lined a single into left field to score Meyers and hand Salem the 4-3 victory.
The Red Sox now own a 9-3 record in extra-inning contests this season, and notched their seventh walk-off win. With 11 hits in the game, Salem has now recorded double-digit hits for the sixth straight game at LewisGale Field. During that stretch, the squad has a perfect 6-0 record, one victory shy of tying the longest home winning streak in the Red Sox era.
Salem starts a new series Monday night against the Carolina Mudcats at LewisGale Field. First pitch is scheduled for 7:05 pm. Salem sends lefty Trey Ball (5-5, 3.83) to the mound, while Carolina counters with Ryan Clark (1-11, 5.99). For tickets and more information, call (540) 389-3333 or slide to www.salemsox.com/tickets.
Comments