Salem Red Sox blitzed by Blue Rocks, 13-2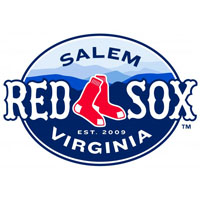 The Wilmington Blue Rocks scored the first 11 runs of the game and cruised to a 13-2 victory over the Salem Red Sox on Wednesday night at Frawley Stadium, salvaging the series finale.
The Blue Rocks (40-68, 13-26) jumped on Red Sox (64-44, 21-18) starter Matt Kent early, scoring a run in the first on an RBI groundout from Brandon Downes. Robert Pehl added an RBI single in the second inning that brought the lead to 2-0.
Wilmington then scored four more runs in the third frame, including a two-run homer by Downes for his second blast of the series. Pehl later added another RBI single before scoring two batters later on an RBI single from Brian Bien.
Kent (8-6) battled back after the rough start to retire eight of the next nine hitters before running into trouble again in the sixth. The southpaw hit a pair of batters and gave up an infield single to load the bases with two outs. Samir Duenez then blooped a two-run single to left to push the Blue Rocks advantage to 8-0. German Taveras relieved Kent and promptly gave up a three-run homer to Luis Villegas on the first pitch to make it 11-0.
Kent was charged with allowing 10 runs, nine earned, on 13 hits in 5.2 innings. He struck out four without walking a batter.
Salem had runners on base in every inning against Wilmington starter Matt Tenuta, but was unable to push anything across against the reigning Carolina League Pitcher of the Week. Tenuta (5-8) tossed six shutout innings, limiting the Red Sox to six hits.
Salem finally broke through in the seventh inning when pinch-hitter Bryan Hudson cranked a two-run double to right-center to get the Sox on the board. Villegas would counter with his second homer of the game, a two-run shot in the eighth, to provide the final margin.
Mike Meyers and Jordan Betts collected three hits a piece in the contest as Salem pounded out 11 hits, but stranded 10 on base.
The Red Sox now head home to open a four-game series against the Lynchburg Hillcats on Thursday night at 7:05 pm. Trey Ball (5-5, 4.06) is scheduled to start for Salem against Lynchburg's Luis Lugo (8-3, 3.76). Follow along with all the action on the Salem Red Sox Baseball Network, with pre-game coverage beginning at 6:45 pm.
Comments