Rusty Wallace dishes on the state of NASCAR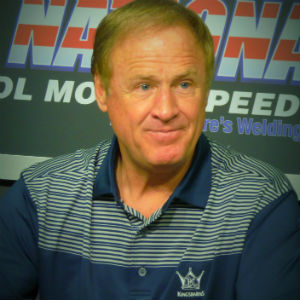 Former NASCAR driver Rusty Wallace is a nine-time winner at The World's Fastest Half Mile. So, it's safe to say he knows a little bit about the high banks of Bristol. In fact, it led him to throw his support behind this year's Short Track U.S. Nationals race at Bristol Motor Speedway.
Wallace lent the Rusty Wallace Automotive Group name and moniker to the event to show his allegiance to the sport's smaller tracks that made him one of NASCAR's and other sanctioning bodies most storied drivers.
It's also a chance to see his son, Steven race on the high banks of Bristol.
The younger Wallace has had a good late model season as of late, bringing a strong car to the track and competing week in and week out.
As for his chances to win the Short Track U.S. Nationals title? "I think he will win," says the elder Wallace, "but as sure I say that, something will go wrong."
Wallace spends his time these days from his post-NASCAR career, overseeing his dealerships housed under the Rusty Wallace Automotive Group name as well advising son Steven, "when he listens," but also co-anchoring MRN Radio coverage of NASCAR for 21 races throughout the season.
The demand has gone down from his television days and 30+ race deals. He is more satisfied with his current agreement with MRN as it allows him the opportunity to more things.
Recently, Wallace and some of his friends spent almost 15 days in Scotland and Great Britain, hitting the golf links.  He returned in time to handle The All Star Race in Charlotte on radio and then jumped on a plane to come to Bristol on Sunday morning to see the race and watch son Steven navigate the track in hopes of a big win.
Short tracks are a passionate part of the experience to Wallace. The Missouri driver also says there is a big challenge facing local tracks and their survival for the future. When asked about the future of the short tracks, Wallace was at first taken aback and commented, "Gosh…you kind of caught be off guard there."
Once Wallace had gathered his thoughts, he replied, "Well, I am passionate about," but went on to say that he believes that the circuit could learn a little from the past in how the sport is presented and handled and thinks that the Late Model cars on the weekly circuit need to look more like the production models that roll off the assembly line into car dealerships across the country.
"There needs to be a fairly substantial rule change with the body styles," adding that "It needs to be more like NASCAR where they are patterned more after the street version of the Camaro or something like that. Maybe they can come up with a more affordable, composite-style body."
The former Winston Cup Champion feels if the sport can "modernize the bodies, I think the car companies might get more involved in short-track racing. Right now, they are running bodies which are hard to promote."
Wallace also commented briefly on the recent news that NASCAR might be for sale by the France family.
"I think that whole thing was more of an exploratory deal to see what the state of the sport is," Wallace said. "I don't personally think they're going to sell NASCAR. I think (the rumors) got a little out of control."
Wallace concluded by saying that he doesn't put much credence in the recent rumors. He believes the news was put out there for other purposes.
"I would be real surprised if they sell NASCAR," exclaimed Wallace. "I don't think it's going to happen."
By Rod Mullins | Augusta Free Press
Comments