RubberDucks take down Squirrels for seventh straight win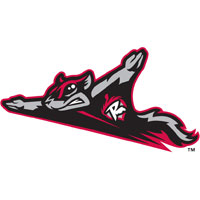 The Akron RubberDucks (20-11) extended their winning streak to seven games on Tuesday night, taking down the Flying Squirrels (16-14) 6-5 at The Diamond. Jerry Sands and K.C. Hobson both homered in the loss for Richmond. The Squirrels will attempt to avoid the sweep on Wednesday afternoon in the series finale. First pitch for Wednesday's RVA Day contest is set for 12:05 p.m.
RHP Chase Johnson made the start for the Flying Squirrels in his return to Richmond. In his first outing since undergoing Tommy John surgery last May, Johnson worked three innings, faced nine batters and struck out two and tossed 32 pitches. The righty worked around an infield base hit in the first and an error in the second thanks to a caught stealing and double play.
Mike Connolly relieved Johnson in the fourth and encountered trouble. After Connolly punched out Tyler Krieger, Willi Castro worked a 3-2 count prior to launching a solo home run over the right field wall for a 1-0 lead. With two outs in the inning, Connolly allowed a base hit and a walk, setting up an RBI double into right centerfield off the bat of Connor Marabell. The Marabell double knocked Connolly from the outing after 33 pitches. Will LaMarche replaced Connolly and allowed a run to score on a wild pitch for a 3-0 Akron lead.
The Flying Squirrels countered with a pair of runs in the bottom of the fourth of Akron starting pitcher Jake Paulson. Dylan Davis line a base hit into right field and K.C. Hobson cranked a line drive homer over the right field fence to make if a 3-2 contest. Hobson's homer run was his second of the year.
The 'Ducks added another three-run inning in the sixth for a 6-2 advantage. Todd Hankins bunted his way aboard and Mark Mathias followed with a base hit. Connor Marabell then struck again, this time with a three-run homer into right centerfield off of Lamarche. Lamarche worked 2.1 inning of much-needed relief for Richmond.
The Squirrels eventually forced Paulson out of the contest with another homer in the seventh inning. Ryan Howard rocked a double off the top of the left field wall and Jerry Sands followed with a mammoth shot to right center, pulling Richmond to within two, 6-4. Paulson (2-0 allowed the four runs on six hits to earn the win.
Richmond pulled to within a run in the eighth inning off the Akron bullpen. Miguel Gomez hammered a double into right and Dylan Davis followed suite for 6-5 affair.
Dan Slania authored a pair of scoreless innings out of the 'pen for the Squirrels and Ray Black added a 1-2-3 ninth. Akron's Henry Martinez shut the door in the ninth to earn his third save of the season.
Comments