P-Nats secure series victory over Fayetteville with matinee win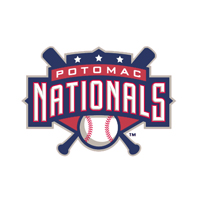 The Potomac Nationals (3-1) won their third consecutive game on Sunday afternoon, defeating the Fayetteville Woodpeckers (1-3) by a score of 6-2 to clinch a series victory and remain tied for first place in the young 2019 season.
In his first appearance of the year, Nick Raquet (W, 1-0) led the way with 5.0 innings of four-hit, two-run ball. He received ample run support early to overcome a first inning home run from Fayetteville's Scott Manea, his second in as many games.
Behind 1-0 heading to the bottom of the first, the Nationals wasted no time in answering the deficit. Cole Freeman and Jack Sundberg led off with back-to-back singles, and Anderson Franco brought them both home with a two-run double for his first hit of the year. A batter later, Jakson Reetz drove in Franco with an RBI single to put the P-Nats up 3-1.
Fayetteville starter Chad Donato (L, 0-1) was pulled after 0.2 innings, allowing four hits and three runs. Though reliever Cesar Rosado got through the second and third innings with little trouble, his three consecutive walks to start the fourth ultimately cost him two earned runs when Freeman brought home his first two RBI of the year with a double down the left field line.
The Nationals added a run in the fifth on Osvaldo Abreu's two-out RBI double off Carlos Sanabria. With a 6-2 lead heading to the sixth, Raquet was relieved byFrankie Bartow. The 22-year-old righty impressed in his Carolina League debut, allowing only two hits in 3.0 scoreless innings. Jeremy McKinney entered in the ninth, and got the final three outs to nail down the Potomac win.
Potomac will look to continue their early success on Monday as they welcome the Carolina Mudcats (Milwaukee Brewers) to Woodbridge. Malvin Peña (0-0, 0.00) makes his 2019 debut for the P-Nats against Carolina's Christian Taugner.
First pitch at Northwest Federal Field on Monday evening is set for 7:05pm. The Potomac broadcast will get underway at 6:50pm with the P-Nats Leadoff Show. You can listen to the Potomac broadcast at potomacnationals.com, at http://bit.ly/P-NatsBroadcast, or on the TuneIn Radio App.
Comments