Notre Dame rallies from 21 down, upsets Virginia Tech, 71-65, in ACC Tournament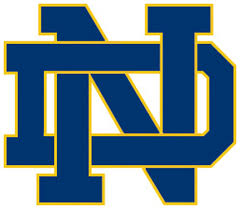 Notre Dame rallied from 21 down in the second half to stun Virginia Tech, 71-65, in the second round of the 2018 ACC Tournament on Wednesday.
The Irish (20-13) advance to play #2 seed Duke (25-6) in Thursday's quarterfinal round, and almost certainly punched a Big Dance ticket.
Since the return of preseason ACC player of the year Bonzie Colson, who missed 15 games with a broken left foot, Notre Dame has won three of four, the lone loss a five-point setback at Virginia.
Colson was key in this one for the Irish, who came out sluggish after squeaking past Pitt, 67-64, in the first round on Tuesday.
Tech (21-11) led 34-21 at the half after holding the Irish to 8-of-32 shooting (25 percent) in the opening 20 minutes, and the lead was as large as 21, at 47-26, with 14 minutes left.
A seemingly innocent Matt Farrell three with 13:56 to go got the game back within 20, and ignited a 24-7 run over the next six minutes that got the Irish to within four.
A pair of Justin Robinson free throws with 6:50 left pushed the margin back to seven, at 59-52, but then the Hokies would go ice cold, missing their next nine shots over a 6:22 scoreless stretch as a 13-0 Irish run put them on top to stay.
Notre Dame shot 57.1 percent from the floor (12-of-21) in the second half, and connected on 7-of-13 from three-point range.
Colson, who had been limited to two points on 1-of-10 shooting in the first half, finished with 12, including a banked three with 2:02 to go as the shot clock was winding down that gave Notre Dame its first lead since the midway point of the first half.
Farrell led Notre Dame with 22 points, 17 of them coming in the second half.
Robinson led the Hokies with 15 points.
Virginia Tech seems a lock to receive an NCAA bid, but will now have to await its ultimate fate on Selection Sunday.