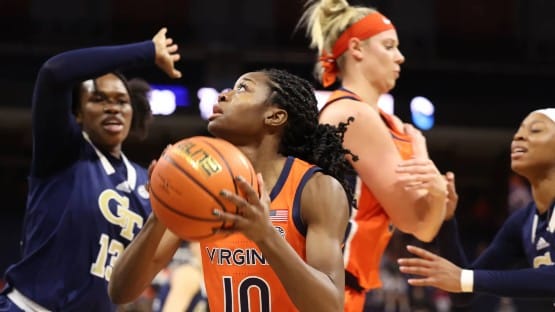 Midway through the third quarter of Virginia's game at 10th-ranked NC State Sunday, Cavalier junior forward Mir McLean jumped up to grab an offensive rebound like she has so many times this season.
When McLean landed awkwardly on her right leg, she let out a deafening scream as she laid on the Reynolds Coliseum floor for several minutes.
UVA coach Amaka Agugua-Hamilton and the rest of McLean's teammates looked on with deep concern as medical personnel rushed to McLean's aid, but as the shrieks of pain only grew louder, it was obvious that this was a serious injury.
The Baltimore native didn't score in the first half Sunday (0-for-8) and definitely wasn't having her best day offensively, connecting on just 1 of her 9 attempts from the field and splitting a pair of free throws for a total of 3 points, but as usual, she had hauled down a game-high 11 rebounds (4 offensive) in 19 minutes before leaving the contest.
McLean returned to the end of the Wahoo bench with her leg propped up, sporting a brace and a pair of crutches in the fourth quarter, looking on as the home team pulled away for an eventual 87-62 victory.
In a touching display of sympathy and respect, each and every member of NC State's team exited the handshake line at game's end, walked over and gave McLean a hug and words of support and encouragement.
"The game is secondary, honestly, to what we just witnessed with somebody that's in our family [being injured] and just praying that she's okay," said Coach Mox. "I think when Mir went down, that was a big blow and our players having to witness that, I'm just really proud of them for continuing to fight after that."
While the injury didn't necessarily impact the outcome of Sunday's game — the Wolfpack held a double-digit lead, 56-41 at the time — it could certainly disrupt the team's rhythm long-term, depending on how much time McLean will miss.
Considering McLean was on crutches, it doesn't appear to be a short-term concern. With an already-thin roster of just 11 players, Coach Mox will have to shuffle things up, and McLean's teammates will have to pick up the slack, particularly in the scoring column and on the boards.
McLean is averaging team highs in both departments (12.9 ppg, 9.5 rpg), even though she's technically listed as a guard at 5-foot-11. Her performance on the glass has helped keep the Hoos at or near the top of the ACC rebounding list at right around 45 a game.
McLean has posted double-digit rebounds in six games this season, including Sunday, highlighted by a career-high 17 against William & Mary last month. Only one other Cavalier, senior forward Camryn Taylor, has achieved that feat, and she's only done it once, when she secured 13 to match a career high in the 2022-23 season opener against George Washington.
Taylor (12.5 ppg, 5.9 rpg), Sam Brunelle (11.4 ppg, 4.5 rpg) and London Clarkson (4.7 ppg, 2.5 rpg) — the only three UVA players listed as forwards — should see their respective roles increase even more on the interior. Brunelle's season high in rebounding was 7 on two occasions, while Clarkson's was 6 against Duke.
Taylor and Brunelle helped make up for McLean's abnormally quiet shooting performance Sunday, combining for 28 points and 3 triples. That type of offensive production will have to continue to make up for the UConn transfer's absence.
Six-foot senior guard McKenna Dale (4.3 ppg, 3.4 rpg) could also provide some depth down low in a pinch. She's produced 8 rebounds in a pair of games this season, against Campbell and East Carolina.
The other Cavalier guards have shown the ability to grab rebounds at times as well, as Carole Miller led the team with a career-high 9 of them on Thursday at Virginia Tech. Fellow 6-footer Kaydan Lawson grabbed 9 rebounds in the opener against GW, as did 5-8 junior transfer Alexia Smith (Minnesota) in her Wahoo debut.
Virginia's next three games are at home, beginning with Thursday's contest against No. 22 North Carolina. If the Cavaliers are hoping to remain in the conversation for a postseason trip, they'll have to rally together scoring-wise and step it up collectively on the glass for as long as McLean is out.