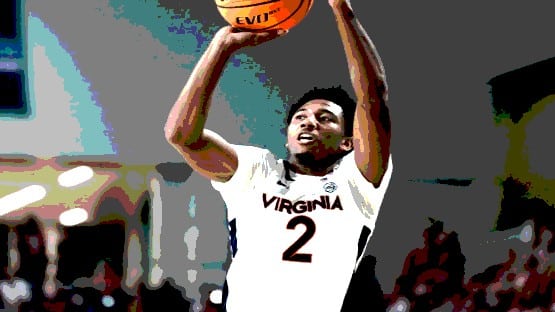 The Wisconsin kids seemed to know what Virginia was going to do better than the Virginia kids did. That's my first observation from the 65-41 smackdown the Badgers handed the 24th-ranked Cavaliers on Monday in Fort Myers.
This one felt a little like the two losses to Florida in NCAA Tournaments, a little like that ugly loss at Tennessee back in December 2013.
Virginia (4-1) had 18 points at halftime in this one, and was really only in the game for a couple of minutes.
Wisconsin led 10-4 five and a half minutes in, got the lead to double-digits at the 9:30 mark of the first half, and went into the break up 28-18.
A 13-5 UVA run cut the Wisconsin margin to 40-35 with 12:54 to go after a tough and-one in the lane from Reece Beekman, the lone bright spot on the night for the 'Hoos, with 17 points on 6-of-12 shooting and seven assists.
Virginia would score six points the rest of the way on 3-of-13 shooting.
Wisconsin (3-2), which had been shooting 29 percent from three through its first four games, connected on 8-of-18 (44.4 percent) Monday night.
Seven-footer Steven Crowl was the key there. The junior ended up only being credited with two assists, but he would have several others under hockey rules, spinning the ball out of double-teams to get the ball moving to cutters and eventually open shooters.
Crowl finished with 15 points on 7-of-10 shooting and 10 rebounds.
Frontcourt mate Tyler Wahl had nine points and 10 boards for the Badgers, who outrebounded Virginia 48-21.
Stat of the night: Wisconsin had 20 offensive rebounds; Virginia had 18 defensive rebounds.
This was the second time in five games this season that an opponent had a 50 percent-or-better offensive rebound rate.
It's early, but through five games, Virginia's 35.1 percent opponent offensive-rebounding rate ranks 312th nationally, per KenPom.com.
Wisconsin only ended up scoring 12 second-chance points out of all those extra chances, but the effect of extra possessions can be demoralizing in and of itself.
The Badgers ended up with a 30-14 advantage in points in the paint, and while Crowl and Wahl were dominating in the post, Virginia's bigs – Jake Grove (four points, 1-of-7 shooting, two rebounds in 21 minutes) and Blake Buchanan (zero points, 0-of-2 shooting, three rebounds in 14 minutes) were missing in action.
Jordan Minor, the Merrimack transfer who hasn't been getting much run to this point this season, got the other five minutes at the five spot, and just missed a box-score trillion – zeroes across the board after the minutes-played line.
Minor did log one foul in his minutes, so, no trillion.
Also putting up goose eggs: Dante Harris (zero points, 0-of-3 from the floor, one rebound, no assists and two turnovers in 17 minutes); Leon Bond III (zero points, 0-of-1 from the floor, no rebounds, one blocked shot in 13 minutes), and Taine Murray (zero points, 0-of-2 from the floor, nothing else on his stat line in six minutes).
That's 36 minutes of literally nothing from those three.
Isaac McKneely had nine points on seven shots from the field; Andrew Rhode had five points on six shots from the field.
Nobody seemed to want to shoot the ball, and when anybody other than Beekman did, it was usually quite ugly.
It's to a point where I'm still trying to figure out how Beekman had seven assists. Doing some quick math, Beekman being 6-of-12 from the floor means the rest of the guys were a combined 9-of-34 shooting.
Beekman assisted seven of those nine buckets.
That's actually impressive.
One other guy worth mentioning here: Ryan Dunn had a quiet game offensively – six points on 3-of-6 shooting – but he had six rebounds, blocked five shots and had two steals.
Dunn would seem to need to get more involved on the offensive end, but then, so does everybody else.
Burn the game tape from this one, and never let it be spoken of again.