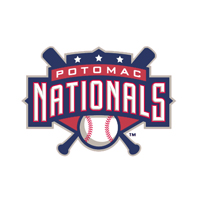 The Potomac Nationals (54-45, 16-14) coughed up a pair of leads on Tuesday night against the Winston-Salem Dash (46-56, 16-17) and fell by a count of 6-5. CF Jacob May manufactured the go-ahead triple in the bottom of the eighth off LHP Kylin Turnbull (L, 0-3).
Potomac struck first with a four-spot in the opening frame. LF Mike McQuillan put the hurt on with a 3-RBI double down the left field line to make it a 4-0 game off starter RHP James Dykstra. RHP Dakota Bacus allowed three earned runs over his six innings of work and left the game in line for the win.
The Dash began their comeback with a run in the fourth inning when 3B Nick Basto launched a solo homer to left field. Winston-Salem tied the game in the sixth inning on a pair of wild plays. After a 1B Keon Barnum RBI-single, Bacus fielded a tailor-made double play ball back to the mound. He then tossed the ball into centerfield scoring another Dash run. Basto then came around to tie up the game on a second throwing error, this time by SS Stephen Perez.
The P-Nats countered right away in the top of the seventh. McQuillan hit a hard ground ball to first base. RHP Raul Fernandez, who came over to field the hot shot, couldn't get a grip on the ball with two outs which allowed 2B Tony Renda to score.
The bottom of the eighth inning was the deciding frame when May blasted a triple to left-center field scoring C Omar Narvaez and SS Cleuluis Rondon. McQuillan tracked the high fly ball and collided hard with the outfield wall. He would be okay and stay in the game.
RHP Kyle Hansen (W, 7-4) struck out the side in the ninth to earn the win. He struck out 3B Khayyan Norfork with runners on first and second to end the game.
The Potomac Nationals Baseball Network, which is accessible at www.potomacnationals.com, will broadcast the second game of a three game series at Winston-Salem on Wednesday, July 23rd. Broadcast coverage will begin with the P-Nats Leadoff Show at 11:45am in preparation for the 12:00pm start. The P-Nats will throw RHP Austin Voth (2-0, 0.27) while the Dash will send RHP Tyler Danish (2-2, 3.64) to the mound.