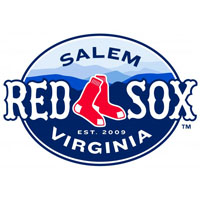 The Winston-Salem Dash struck for two runs in the bottom of the seventh and hung on to beat the Salem Red Sox 5-3 on Friday night at BB&T Ballpark.
In a 3-3 game, the Dash began the seventh inning with Adam Engel singling off of German Taveras. Eddy Alvarez then dropped a sacrifice bunt down and Taveras mishandled the ball, allowing Alvarez to reach. After a Jake Peter walk, Trey Michalczewski launched a sacrifice fly to left, scoring Engel and giving the Dash the lead. Keon Barnum later bounced a grounder to second and drove home Alvarez, making it 5-3 Winston-Salem.
Salem got on the board first with a run in the third. With Deiner Lopez on first, Forrestt Allday singled to left. Mauricio Dubon then shot a single through the hole between first and second, allowing Lopez to score from second and giving Salem a 1-0 lead.
The advantage grew in the fourth as the first three Red Sox in the inning recorded hits. Kevin Heller roped a double down the third base line and took third when Cole Sturgeon singled behind him. Yoilan Cerse then singled up the middle to drive in Heller. After Jordan Procyshen advanced Sturgeon and Cerse with a sacrifice bunt, Jordan Betts lofted a fly ball deep enough to right for Sturgeon to tag and score from third, giving Salem a 3-0 lead.
Winston-Salem answered in the home half of the fist with the aid of three wild pitches from Daniel McGrath. With the bases loaded and two down, McGrath's second wild pitch of the frame allowed Nick Basto to score and pushed Omar Narvaez to third. Later in the same at bat, McGrath again hurled one five-hole past Procyshen and Narvaez sprinted home to cut the lead to 3-2.
The Dash tied the game in the fifth inning with an abbreviated two-out rally. Michalczewski blasted a double to left field and moved to third on a wild pitch. Barnum then poked a single to right, allowing Michalczewski to score easily from third, tying the game at three.
Matt Heidenreich (12-2) was stellar with ten strikeouts over seven innings pitched. He allowed three runs on eight hits while striking out the final four hitters he faced. Jake Cose tossed two scoreless and hitless innings to pick up his first save of the year.
McGrath lasted five innings for the Sox in a no-decision. He gave up three runs on six hits with three walks, four strikeouts and four wild pitches. Taveras (4-3) took the loss thanks to two unearned runs allowed in three innings with only one hit and one walk allowed.
Dubon led the way for the Sox offensively, going 2-for-4 with an RBI. Jordan Betts was 1-for-2 with an RBI and Yoilan Cerse went 1-for-3 with an RBI.
The series continues Saturday night at 6:30 p.m. with the Red Sox sending Ty Buttrey (7-5, 3.65) out to oppose Jordan Guerrero (3-3, 4.57). Fans can listen to the game on 1240 AM ESPN Roanoke, online at salemsox.com or via the TuneIn Radio app.
– Source: Salem Red Sox