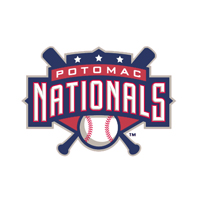 The Potomac Nationals (25-26, 13-15) were blanked by the Winston-Salem Dash (21-30, 10-14) in Game Two at BB&T Ballpark on Wednesday night after Dash starter, RHP Myles Jaye turned in his first career nine-inning, complete-game shutout en route to a 4-0 win.
The Nationals suffered their second shutout loss of the season after failing to score at Harry Grove Stadium in Frederick, MD on May 13th against the Frederick Keys in a 7-0 defeat.
Wednesday's matchup was the fastest game of the 2014 season (including seven-inning contests) played by the Potomac Nationals at one hour and 48 minutes.
Jaye (1-0), who began the season (0-6) with Double-A Birmingham, hung zeroes in nine straight innings to get his first Carolina League win in 2014. Jaye retired the last 20 batters he faced after allowing an infield single chopped off his own glove by Nationals SS Stephen Perez in the 3rd inning.
Jaye's gem featured no walks and five strikeouts and the righty induced 14 groundouts and six flyouts.
The only other base hits gathered by the P-Nats in the contest were a leadoff double from 1B Shawn Pleffner swatted into right-center field leading off the 2nd stanza, a bunt single later than inning for 3B Khayyan Norfork, and a true single for2B Tony Renda preceding the ball hit by Perez in the 3rd.
Potomac went 0-for-5 with runners in scoring position.
Going back to the end of the 2013 season, Jaye has now thrown 23.0 consecutive scoreless innings over three starts against the Nationals while earning a (3-0) record in the process.
Winston-Salem scored three runs in the first inning off the eventual losing pitcher, LHP Kylin Turnbull (0-2). After a leadoff single blooped into shallow left-center field off the cracked stick of Dash SS Tim Anderson, CF Jacob May laid down a sacrifice bunt to get Anderson into scoring position before LF Courtney Hawkins ripped an RBI triple into the alleyway in left to deliver Anderson. Hawkins then scored on a run-scoring one-base knock nailed into right field by RF Jason Coats. 1B Keon Barnum whipped an RBI single into right field to send Coats to the plate.
Turnbull went 5.0 innings and surrendered four earned runs on eight hits while walking just one and fanning three.
Winston-Salem tacked on an extra run in the 5th inning via an RBI single bulleted into right field by May to send home a triple cranked by Anderson giving the Dash a 4-0 lead that would serve as the final score.
In the game, the Dash were 4-for-8 with runners in position to score.
The Game Three finale at BB&T Ballpark on Thursday evening will square up Nationals LHP Matthew Spann (3-0, 2.45) versus Winston-Salem RHP Tyler Danish (0-0, 5.23).
First pitch inside the confines of BB&T Ballpark is slated for 7:00pm.
The Potomac Nationals Baseball Network, which is accessible at www.potomacnationals.com, will broadcast the finale of this three-game set with the Winston-Salem Dash on Thursday night. Live broadcast coverage will begin with the P-Nats Leadoff Show at 6:45pm in preparation for the 7:00pm start.