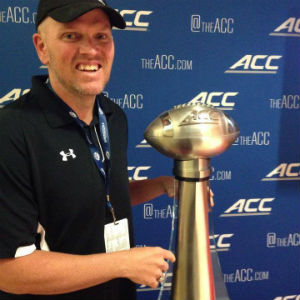 WINNER: Michael Brewer looks good in Virginia Tech debut Michael Brewer, the Texas Tech transfer installed last week as the starting quarterback by Virginia Tech coach Frank Beamer, did what he was supposed to do and more, completing 23 of his 30 pass attempts for 251 yards and two touchdowns to key a 34-9 Hokies' win over William and Mary on Saturday.
Another key to the win was that the Tech running game, dormant the past two seasons, got on track early against the FCS Tribe, putting up 222 yards on 42 carries. The offensive line looked solid, not giving up a sack or even a tackle for loss for the eight runners, including Brewer, who attempted runs from scrimmage.
LOSER: JMU blasted at Maryland Woo, boy. So this will be a rebuilding job.
JMU trailed 24-0 at the half and never got going in a 52-7 beatdown at Maryland, which for the record will not be a major player in the Big Ten, or anything close to that.
The offense, led by Georgia Tech transfer Vad Lee, got its only points after a fourth-quarter interception set up a short field.
Lee threw the ball 37 times, after throwing a total of 180 in 13 starts at Georgia Tech in 2013, but completed just 16 of his tosses for 141 yards, with two interceptions. Lee, a heralded recruit out of high school in North Carolina, also had issues with accuracy at Georgia Tech, where he completed just 45.6 percent of his passes last year.
The JMU defense, a strength of the team under former coach Mickey Matthews, was also less than stellar on Saturday, giving the Terps 471 yards of total offense, including a gashing 285 yards on the ground.
WINNER: Mike London? Before we get too excited, Virginia did take down BYU in its 2013 season opener, then went on to lose 10 of its last 11.
But that said, the 'Hoos took UCLA, ranked seventh in the preseason, and a fave pick of many analysts to be a part of the first-ever FBS college playoff at the end of the season, to the brink in a 28-20 loss that would have been something else entirely without three Bruins defensive touchdowns in an ugly second quarter.
The UVA team that pushed UCLA to the limit has the talent to get things turned around in 2014. The question mark on the end of the subhead for London is the reminder back to 2013 and even 2012, when Virginia upset Penn State early, only to limp home to a 4-8 finish.
Anything not resembling at least a .500 season in 2014 will result in the fall of London, moral victories against national-title contenders aside.
– Column by Chris Graham