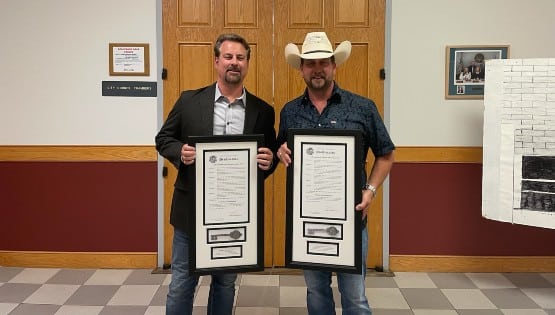 Tomorrow night Staunton's Wilson Fairchild will take the stage at the West Virginia State Fair.
Cousins Wil and Langdon Reid, the sons of original Statler Brothers Harold and Don Reid, respectively, are excited to play the fair.
"We've been going to this fair all of our lives. Our dads played it almost every year and it was the last close fair date that the family would go to before school started," Langdon Reid said.
The cousins know every corner of the backstage and the gate usher's name.
"So, it's very cool for us to be playing on the grandstand stage after many years of standing on the side of that very stage watching the Statlers," Langdon Reid said.
Audience members can expect to hear a set list from the duo that would be heard at any of their shows: a mixture of traditional country, original songs, Statler Brothers songs to showcase their heritage, "and plenty of fun and energetic songs that keep the crowd right there with us."
Gaither Records will release a new album by the duo in January 2024, and the audience will hear a few new songs from that album Tuesday night.
After the "fun and fair food" at the West Virginia State Fair, Wilson Fairchild will travel to Nashville for a couple weeks to film a DVD of songs from their new album, which will be released in January with the album.
Wilson Fairchild is excited to bring new music to fans, an album of 12 songs "we've chosen that really showcase who we are as artists and our love for country and gospel music."
Entry to Wilson Fairchild's 7 p.m. concert is free with a paid fair admission ticket.