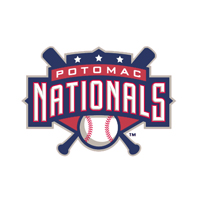 The Potomac Nationals (30-27, 14-16) were beaten by the Wilmington Blue Rocks (29-28, 16-12) in a pitcher's duel at Frawley Stadium by the final score of 5-3 on Tuesday evening in their first head-to-head meeting of the 2014 season.
The series opener of a three-game road trip went to Wilmington thanks to a seven-inning quality outing from starting pitcher, RHP Miguel Almonte, who allowed three earned runs on five hits while walking two and fanning four.
As the Nationals and Blue Rocks inch closer to the 2014 Carolina League All-Star Break, these teams will face each other in each of the next five days with a weekend series set up at Pfitzner Stadium beginning Friday, June 6th once this current bus trip is completed.
The Nationals jumped out to a 2-0 lead in the opening frame as a leadoff walk was issued by Almonte to Potomac 2B Tony Renda before DH Oscar Tejeda connected on a one-out double to the left field corner to put two runners in scoring position. Nationals 1B Shawn Pleffner rattled an RBI 4-3 groundout to plate Renda, and Tejeda scored on an RBI single nailed into center field off the lumber of LF Randolph Oduber.
Oduber went 3-for-4 with a trio of singles in the contest.
Potomac starter, LHP Matthew Spann, was solid through 6.0 stanzas in which the lefty surrendered three runs, two earned, on five hits, while walking three batters and striking out five hitters.
Spann did not receive a decision and remains unbeaten in 2014 as a Nationals hurler through eight appearances including three starts.
The Blue Rocks tagged Spann for three runs in the 3rd inning when Wilmington CF Bubba Starling gashed an RBI double to the left field chalk before 3B Hunter Dozier laced a two-run, two-bagger to the alleyway in left-center field. Starling's liner summoned home LF Terrance Gore, who reached on a fielder's choice. Wilmington SS Raul Mondesi reached the same way and along with Starling scored on Dozier's two-base hit to give the hosting team a 3-2 edge.
Against Almonte in the 7th inning, Nationals 3B Khayyan Norfork cranked a line-drive solo homer beyond the fence towards the left field corner for his second bomb of the season to tie the game at 3-3.
The eventual losing pitcher, Nationals RHP Gilberto Mendez entered in the 7th and gave up a pair of runs. Gore's double yanked to the barrier in left field came around on an shattered bat RBI fielder's choice by Mondesi as Renda's throw to the plate was tardy. Dozier then catapulted his second run-scoring double of the game to the left field corner to give the Blue Rocks a 5-3 lead they would not let slip.
Mendez, who threw a perfect 8th inning, allowed two earned runs in 2.0 innings with no walks and three strikeouts to his line.
Wilmington RHP Zeb Sneed served as the setup man in the 8th hanging a zero by inducing a one-two-three innings.
In the 9th, Blue Rocks closer, RHP Mark Peterson was put to the test by held up to seal his eleventh save in as many save chances this season. The Carolina League's leader in saves, allowed back-to-back two out singles to Oduber and Norfork (who's bat exploded on an inside fastball before the seams were muscled into shallow left field) before CF Will Piwnica-Worms took a 3-2 pitch out of the strike zone to garner a base-on-balls which loaded the bags. P-Nats pinch hitter, Mike McQuillan, who was activated from the disabled list just today, ended up flying out to left-center field to Gore which effectively ended the game and stranded the bases loaded.
In Game Two at Frawley Stadium scheduled for tomorrow night at 6:35pm, Potomac will throw RHP Brian Brach (0-0, 3.60) against Wilmington LHP Jonathan Dziedzic (5-3, 2.94).
The Potomac Nationals Baseball Network, accessible by heading online to www.potomacnationals.com, will broadcast live coverage of Wednesday night's standoff in the First State beginning with the P-Nats Leadoff Show at 6:20pm before the play-by-play at 6:35pm.