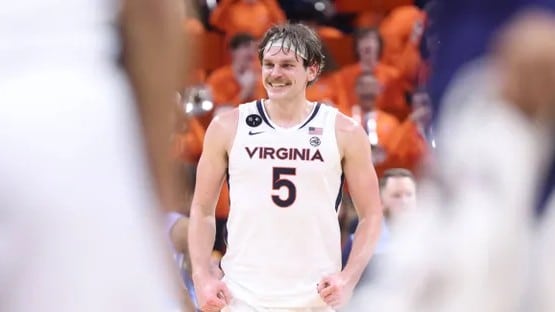 Hubert Davis adjusted well on the fly
Armando Bacot left with a foot injury 1:19 into the game – taking with him his 18.8 points per game and 11.2 rebounds per game.
Never fear; at Carolina, there's usually a guy on the bench not getting minutes who's pretty good, and just waiting for a chance to get on the floor.
That guy Tuesday night was Jalen Washington, a 6'10" freshman who was a four-star recruit out of high school.
Washington had to miss his senior season after suffering an ACL injury, and had only gotten 19 minutes of floor time this season coming in as he's been trying to get back his conditioning, and of course, there's also the matter of playing behind Bacot.
Stepping right in, Washington had 12 points on 5-of-7 shooting in the first half, splitting time at the five with Virginia transfer Justin McKoy, who had two points and six boards.
Between the two of them, then, that was 14 points and nine boards in 21 first-half minutes.
Davis more than made up for what he lost in Bacot in the first half.
Then Tony Bennett adjusted back
Davis didn't necessarily lose the game because he didn't have Bacot in the second half.
Tony Bennett turned things around by going small – with a four-guard lineup that had 6'8" stretch four Ben Vander Plas at the five spot.
The lineup turned things around for Virginia offensively – in the first 24:48, UVA scored 31 points on 11-of-29 shooting; in the final 15:12, the 'Hoos scored 34 points on 13-of-23 shooting.
But it also kept Carolina in check on the other end of the floor. The Heels did a great job in the first 25 minutes of moving the ball out of double teams and finding the open man, and it showed in the numbers – UNC was a respectable 14-of-33 from the floor.
In the final 15 minutes: Carolina was 7-of-20 from the floor.
Washington had just one point after halftime.
The Washington-McKoy duo finished with 15 points and 12 rebounds in 42 minutes, not far off from what Bacot produces on a nightly basis.
Never saw that one before
From what I can tell, from scanning the website EvanMiya.com, which tracks, among many other things, lineup usage, Bennett had not used the lineup he had out there for the final 15:12 – Reece Beekman, Kihei Clark, Armaan Franklin, Isaac McKneely, Ben Vander Plas – all season.
And according to EvanMiya.com, Virginia's starting lineup – Beekman, Clark, Franklin, Jayden Gardner and Kadin Shedrick – is the fourth-best five-man lineup in all of D1 (minimum: 100 possessions), with an adjusted team scoring margin of +47.2 points per 100 possessions.
And that lineup, incidentally, is also the #1 lineup in terms of offensive efficiency, averaging 137.0 points per 100 possessions.
Bennett left Gardner and Shedrick on the bench for the final 17:14.
Virginia outscored UNC 41-24 over that span.
The good Vander Plas
It didn't hurt that Virginia had the good Ben Vander Plas in this one.
BVP's 17-point night was his fifth game in double-digits in scoring this season.
He has six games with three or fewer points.
(That's the bad Vander Plas.)
Virginia, obviously, doesn't win this one without Vander Plas going for 14 points and five rebounds in the second half, and contributing the defense that held Washington to the single free throw in the final 20 minutes.
His steal and dunk with 21 seconds left closed this one out.
It's good when the good Vander Plas graces us with his presence.
McKneely takes the parking brake off
Bennett used that phrasing after the 73-66 win over Syracuse on Saturday, that he's been trying to encourage the freshman sharpshooter to play a little more open.
McKneely still didn't tick up his usage rate all that much – his 11 points came on 4-of-5 shooting from the field, 3-of-4 from three.
Over his last four, iMac is 12-of-21 (57.1 percent) from three, and he's gone for double-digits in his last two.