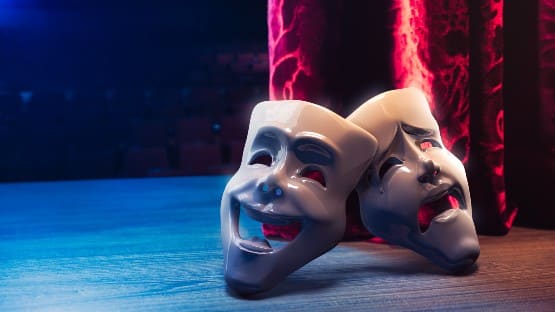 Laughter will resound from Blue Ridge Community College's Black Box Theatre next weekend in the Waynesboro Players' fall production.
Written by Joseph DiPietro, "Over the River and Through the Woods" tells the story of Nick Cristano, a 29-year-old advertising executive in New York City.
Cristano travels "over the river" into Hoboken, New Jersey every Sunday to eat dinner with his four grandparents. One Sunday he joins them for dinner with exciting news: he received a job offer in Seattle. Shenanigans begin as the grandparents attempt to keep their grandson in New York.
And the characters bring the audience in on the action by sharing their feelings and secrets directly with the audience. "That's one reason I wanted to stage this in a thrust format," explains Danny Lee, the show's co-director.
A thrust theater format presents the audience on three sides of the stage. According to directors Lee and Wendi Shorkey, the actors and audience are given a unique theater experience.
"Theatre groups around here don't do this very often. We're lucky to have our partnership with BRCC so it gives us this flexibility," Lee said. "It's a much more real-life organic experience. You are not working in that picture frame proscenium format. It feels like you are sitting in the living room with the characters."
Lee said besides the emotional work the actors must do for their characters, they must also be aware of where and how they move so that audience members on all sides are able to enjoy the same show.
"For the audience, yes, there will be times an actor's back is to you, but you get to focus in on the actors who aren't talking, which can be just as rewarding. Plus, you can see the audience on the other side reacting as well. It's a truly communal experience."
An original cast member of the show unfortunately had to drop out of the production in early September. Lee stepped into the role.
"It was the least disruptive to the whole process for me to step in," he said. "Rather than lose time finding another actor and bringing them up to speed, Wendi and I discussed it with the cast and made the call as a company."
Bob McGrath and Sandi Belcher portray Cristano's maternal grandparents, Frank and Aida. Lee is his paternal grandfather, Nunzio, and stage newcomer Jean Storrs is his paternal grandmother, Emma. The cast is completed with Leigh Ellis Beauchamp as Caitlyn, the "lovely girl than any young man would be lucky to have as his wife."
Over the River and Through the Woods will be at the Blue Ride Community College Black Box Theatre October 6, 7, 8. Tickets are $15 per person. Tickets are available online. Performances for September 30 and October 1 have been cancelled due to illness.