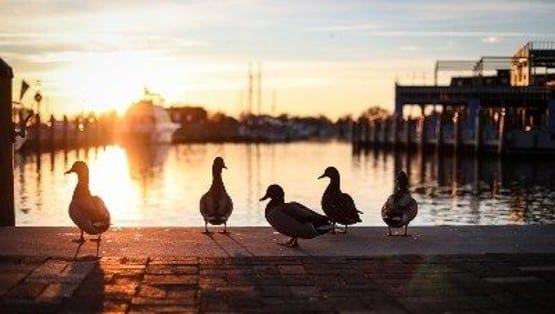 The U.S. Environmental Protection Agency will invest $9.6 million into restoring the Chesapeake Bay with projects funded by the Bipartisan Infrastructure Law.
More than $1.9 million in Watershed Restoration Grants will go toward two organizations in Virginia to help protect and restore Virginia's portion of the Chesapeake Bay watershed.
The grants will generate more than $1 million in matching contributions for a total conservation impact of more than $3 million.
"These projects represent a portion of the generational investments that the Biden Administration is making in the Chesapeake Bay watershed," EPA Mid-Atlantic Regional Administrator Adam Ortiz. "Each one of them will improve not just the local environment where the projects are located, but the Chesapeake Bay ecosystem downstream by removing runoff pollution, cleaning up streams and rivers, and planting native trees and grasses. Four decades ago, visionary leaders set us on a course to protect the Chesapeake Bay. Today, thanks to partnerships like the ones for these projects, we will kickstart the next 40 years of conservation in the Chesapeake Bay watershed."
The Innovative Nutrient and Sediment Reduction (INSR) Program will fund the projects with grants awarded by the National Fish and Wildlife Foundation (NFWF). The INSR Program has provided more than $133 million to 229 projects since 2006 that have reduced 23 million pounds of nitrogen, 4 million pounds of phosphorus and 500,000 tons of sediment across the Chesapeake Bay watershed.
Grant recipients are:
Upper Mattaponi Indian Tribe ($1,000,000): The project will conserve 3,385 acres of the Upper Mattaponi's ancestral lands and watershed by removing invasive plant species, planting native grasses and trees to enhance upland, riparian and wetland habitats, and restoring channelized streams.
Delmarva Poultry Industry ($997,300): This project will create cost-share programs to accelerate the adoption of sustainable and resilient chicken farming practices in Maryland and Virginia's Delmarva Peninsula. It will improve riparian buffers, precision nutrient management, conservation drainage and litter management.
The Bipartisan Infrastructure Law will provide $238 million over five years directed to programs like INSR as well as Small Watershed Grants and the Most Effective Basins program, all intended to contribute to the restoration of the Chesapeake Bay.
"Since coming into office, the Biden Administration has renewed the effort to engage with stakeholders in the Chesapeake Bay watershed and invest in on-the-ground projects and practices," Ortiz sad. "We will continue to work with state and local governments to better manage stormwater, improve our built infrastructure, and find nature-based solutions to improving water quality throughout the watershed, as well ensuring that polluters are being held accountable."
Nitrogen, phosphorus and sediment levels have been decreasing annually from the 2009 baseline, according to computer modeling. Projects funded through the INSR Program have made the decrease possible and EPA has increased inspections and compliance assurance activities throughout the watershed to prevent polluted storm and wastewater from entering the Chesapeake Bay.