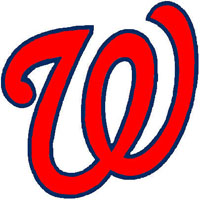 Lucas Giolito was flawless in his Major League debut for the Washington Nationals in a 5-0 Nats win over their rival New York Mets Tuesday night.
The only hiccup for Giolito, the 16th pick in the 2012 MLB Draft, was a lengthy rain delay that limited him to four innings of work.
Giolito gave up one hit and walked two, and needed only 45 pitches to get 12 outs.
Matt Harvey (4-10, 4.55 ERA, 1.40 WHIP) took the loss for the Mets, giving up a run on four hits in three and two-thirds innings, striking out three and walking three before the rains came.
Bryce Harper (.256/.403/.496, 16 HR, 46 RBI) hit a two-run homer in the sixth on a 2-for-4 night.
Wilson Ramos (.343/.387/.561, 12 HR, 43 RBI) was 2-for-4 with two RBI for Washington (46-32).