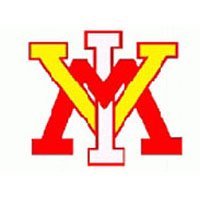 Eric Mayers went 4 for 4 with his second home run of the year and fell just a triple shy of the cycle while pacing a 17-hit attack, as the VMI Keydets downed the Presbyterian College Blue Hose, 15-2, in the opener of a Big South baseball series Friday at Gray-Minor Stadium.
The Keydets (11-9, 2-2 Big South) won their second straight by jumping ahead early, notching three runs in the first on Mayers' three-run double and never looking back. VMI would score seven of the game's first eight tallies before PC (10-12-1, 3-1 BSC) scored in the fourth, but the Keydets scored eight unanswered, including six times in the eighth, to account for the final margin.
In addition to Mayers' career-best day, Brandon Angus went 3 for 5 with three runs scored and Jordan Tarsovich was on base four times in five plate appearances. Tarsovich also scored four runs, becoming the first Keydet to accomplish that feat in a single game since May 21, 2011 (Graham Sullivan).
Will Connerley and Tanner Dofflemyer also chipped in two hits apiece to back Reed Garrett, who allowed two unearned runs over seven innings to move to 3-2 on the year. Beau Dees (4-2) took the loss for Presbyterian, as he gave up eight runs, seven of which were earned, in 4 1/3 innings of work.
VMI, coming off a six-day layoff due to weather, jumped ahead in the opening frame. Tarsovich led off with a walk and Brandon Angus reached on an error by third baseman Jacob Midkiff. Red Dowdell was then hit by a pitch to load the bases and one out later, Mayers cleared them off with a double over the head of center fielder Tyler Weyenberg. That gave the Keydets a 3-0 lead they would not relinquish, and after PC notched a single run in the second, VMI added on in the bottom half. RBI singles by Angus, Dowdell and Cameron Walter extended the lead to 6-1, VMI.
Mayers would score on a Matt Winn sacrifice fly in the third inning to make it 7-1, Keydets, but the Blue Hose got a run back in the fourth. Brandon Paul had a one-out single and Midkiff then hit a bouncing ball to shortstop for a possible double play. The ball was booted, however, and went for an error to put two runners on, and Derek Long followed with a RBI hit to make it a 7-2 contest. The next batter, Michael Trebendis, grounded into a 6-4-3 double play to end the inning, and the Keydets resumed their scoring in the fifth.
Mayers led off that inning by blasting a home run over the 390 sign in straightaway center field for his second long ball of the season, increasing the lead to 8-2, and a sixth-inning RBI single by Angus made it 9-2.
The Keydets capped the scoring in the eighth, as Dofflemyer led off with an infield hit and Tarsovich doubled him home. After an Angus single put runners at second and third, Josh Worthley pinch-hit and drove home Tarsovich with a sacrifice fly to left field that was dropped for an error, making it 11-2.
One out later, Angus scored on a fielding error and Connerley tripled home two runs to push the margin to 14-2. Thomas Stallings added the final run, plating Connerley on a RBI single to account for the final margin. The 15-run outburst marked VMI's highest scoring conference game since notching 17 runs against High Point on May 21, 2011.
Paul and Midkiff each went 2 for 3 for Presbyterian. VMI continues to be unbeaten when it leads at the end of any full inning during a game.
VMI baseball is back in action Saturday, as the Keydets and Blue Hose contest game two of their three-game series. First pitch is set for 4 p.m.