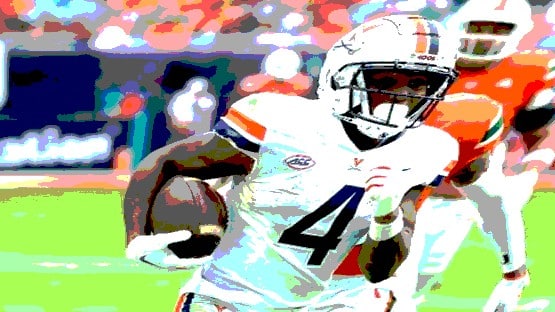 Virginia wideout Malik Washington is, not surprisingly, one of the 10 semifinalists for the Biletnikoff Award, the annual honor for the most outstanding wide receiver in FBS.
The grad transfer is second nationally in receptions (96) and receiving yards (1,311), and has been consistent – with nine games over 100 yards this season, and a 10th in which he had 97 yards.
Washington broke UVA's single-season records in catches and receiving yards in UVA's 30-27 win over Duke on Saturday, with eight catches on 10 targets for 112 yards and two TDs in the win.
"I'm probably gonna sleep with this thing tonight. I probably won't let go of it for a little bit. It means a lot to me," Washington told reporters, clutching the game ball from the win.
Washington had put up good numbers in his final two seasons at Northwestern – 44 catches, 578 yards and two TDs as a junior in 2021; 65 catches, 694 yards and a TD as a senior in 2022.
His 2023 season got off to a quiet start – four catches for 29 yards in the 49-13 loss to Tennessee in Week 1.
The coming-out party came in Week 2. Washington had five catches for 19 yards and a TD in the 36-35 loss to JMU.
Two weeks later, in the 24-21 loss to NC State, Washington put up a career-high 170 yards on 10 catches, with two TDs.
He's gone over 150 yards two other times – Miami (12 catches, 152 yards in a 29-26 loss) and Louisville (9 catches, 155 yards in a 31-24 loss).
"I really didn't imagine things like this happening," Washington said in the glow of the Duke win. "The work that I put in, and the work that we put in, all offseason, all throughout the winter, it's paying off, and I love to see that."
Coach Tony Elliott, for one, could see the big game against Duke coming.
"He told me, and he's not a real fiery guy, he's pretty even keel, but today I saw some passion and some fire, and he basically told me, Coach, I want it. Give me the ball today. And that was the first time he really said that, even though he's getting the ball a ton. He actually said the first time, Coach, I want it," Elliott said.
Imagine where this UVA team is if Washington doesn't transfer in, right?
"I'm really grateful for Malik believing in us, and really not much to go off of when we were recruiting him, and just kind of selling him the vision of what we believed we could build here," Elliott said. "He'll also tell you that what he's been able to accomplish is a result of a lot of people putting in a lot of work. Things have been progressing in all aspects of the offense to be able to give him an opportunity to do that. And if there was a young man that I say has earned it and deserved it, it would be Malik Washington."