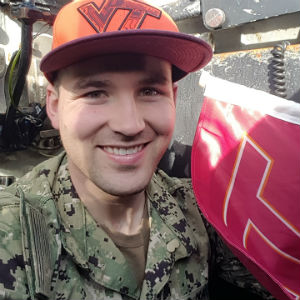 U.S. Navy Lt. j.g. Adam D'Amico, a 2016 Virginia Tech Corps of Cadets alumnus who earned a degree in chemical engineering from the College of Engineering, was selected as the Hokie Hero for Saturday's football game against the University of Pittsburgh.
The Hokie Hero program honors corps alumni who are deployed. Recipients are highlighted by Jon Laaser and Mike Burnop during their radio broadcast of Hokie football games, on the Corps of Cadets website, and in the Corps Review alumni magazine.
D'Amico is on a seven-month deployment on the USS Pittsburgh. He is the reactor controls assistant and works to maintain the submarine's nuclear reactor in pristine condition. He and the Pittsburgh crew maintain a 24/7 watch to ensure our freedom and democracy.