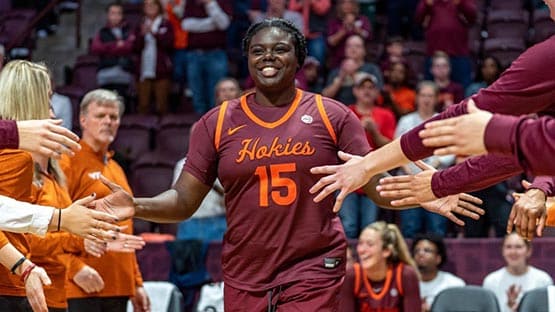 Virginia Tech basketball player Ashley Owusu credits a blood transfusion with saving her life after a mononucleosis diagnosis while playing for the University of Maryland.
"I started feeling sick, was sleeping a lot, wasn't really eating, and then after we lost to Stanford, I got home, and I was feeling a lot worse, Owusu said. "I was super sick, had a temperature, wasn't eating and my throat was swollen, and my parents took me to the hospital."
Tests revealed Owusu's iron levels in her blood to be dangerously low. While most people feel better after one transfusion, Owusu's iron levels were so low that she needed eight transfusions.
The Woodbridge, Va., native, who transferred to Virginia Tech over the summer and is pursuing a degree in communications, said the experience motivated her to get involved with the American Red Cross.
Owusu is encouraging teammates, students, friends and those in the local community to roll up their sleeves as an ambassador for the American Red Cross.
January is National Blood Donation Month, and Owusu is using her platform as a college athlete by sharing her story in a video promoting the importance of giving blood.
"I've always known what the Red Cross was about – donating blood – but I never really knew how much of an impact blood donors can have and how important it is," Owusu said. "So I thought it was pretty cool, especially with the story.
"I always knew what it was, but I never really looked into, never really donated blood," Owusu said. "Once that [her sickness] happened, I just got more serious about it. During that time, my aunt had actually told me there was a shortage of blood donations, so I thought it'd be pretty cool to try to shine some light on it."
College populations tend to give blood more frequently, and Virginia Tech always has been involved with the organization's efforts, hosting blood drives throughout the academic year.
Owusu wants to see those efforts continue. Her message to students is simple.
"Just look into it," Owusu said. "I know some people may have a fear of seeing blood and stuff like that, but I think donating blood is a lot more important than we might think. And I think it can save people's lives in an instance. So just look into it and take it seriously."
The video