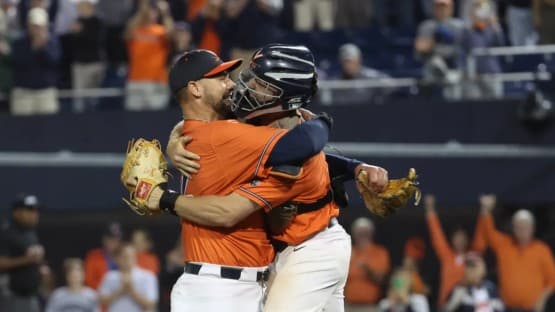 Virginia pitcher Jake Berry has signed a free-agent deal with the MLB's Cleveland Guardians, according to D1Baseball.com.
Berry, a 6'10" lefthander, pitched in 50 games in his three seasons at Virginia, primarily out of the bullpen, though he did get nine starts in 2022.
Berry was 5-8 with a 4.39 ERA and 1.31 WHIP, with 134 strikeouts and 53 walks in 112.2 innings.
He pitched himself into being a reliable back-of-the-bullpen guy for Brian O'Connor in 2023, even as his numbers – 0-5, 3.93 ERA – might not reflect that.
Berry took the loss in Virginia's opener at the College World Series, getting charged with four runs, all earned, on four hits – three of them solo homers – in the 6-5 loss to Florida on June 16.
Prior to that, Berry had put in three scoreless innings for UVA in its run through the postseason to a CWS berth, striking out four, walking one and allowing two hits in three innings of relief.
For a tall drink of water, Berry, a native of Great Falls, Va., doesn't have overpowering stuff, with a fastball that tops out in the low-90s.
That would seem to be the kind of thing that could be worked out with a mechanical tweak or two, which is why he's worth the time and low amount of money that Cleveland will be putting in his direction with the free-agent deal.